……continue
We went back to our hotel to shower and rest a little before we went out again to have our dinner.
In Penang, its all about eating and everyone knows that.

* In our room. Freak, blur again!

* Camwhore while waiting for our food to come.

* Oysters!

* Squid!

* Fishy!

* Tiger prawn!
The seafood is awesome and its located at Teluk Bahang. Its called Fishing Village Restaurant.
The bill came up to a total of Rm145.50 for the four of us. Expensive or cheap?
We then head over to The Ship to continue eating. Its crazy I know.
We are already like so full but I really want to go to The Ship. :3

* The other couple.

* Again, this picture so cannot lorh. Poor photographer, lol.

* She wanna eat steak after our filling meal. @.@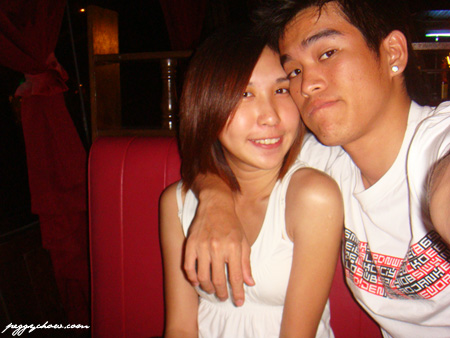 * He is such a bad ass.
Him: Why you put the camera so near, not nice one.
Me: Wtf!! My hand is short!!!
So wtf right? That's like the far-est I can put my camera lorh, purposely wanna say my hand short. Pfft!!

* My Seafood Chowder. (:
Not satisfy. Still wanna eat, so we head over to this place to eat our last plate of Char Kuey Teow that night.

* Kedai Kopi Sin Guat Keong.

* This is a plate of Char Kuey Teow with 'nai niu har'.
All of us is soooooo full, we went back to our hotel and play cards.
to be continue again……………..