A quarter of century gone!
I'm afraid I have to agree to the saying that age is just a number.
I am still very much a kid at heart, my boyfriend knows best.
I guess the only part that makes me feel like a 25 is that I get tired more often compared to few years ago.
There are times where I used to conflict myself by very looking forward to my own birthday but at the same time dislike the aging part.
Then it strikes me, why am I dreading the aging part? It's a blessing in disguise.
We should all feel blessed to have the chance to age and to grow, despite the number. It's just a number after all.
Even if we look older, even if we have more wrinkles and what not we should all be grateful that we stand a chance at all.
I feel especially blessed to have another year surrounded by people I love, my family, my other half and my friends. :)
For this year's birthday I actually planned for a getaway at Alang Rawa but I never seemed to get a reply from them after sending a few emails. Are they close during monsoon season or are they just that bad in replying? :(
I've been telling Fatty that I wanted to go to Alang Rawa since ages ago but it just didn't happen.
I'll just have to wait for my bff to be back next year and make this happen, pfft.
Fatty suggested Japamala Resort at Tioman and since I also wanted to go check out Johor Bahru because I've never really been there, my plan to Alang Rawa changed.
Johor Bahru and Tioman Island it is.
We occupied our time at Johor Bahru on the first day and drove to Mersing on the second.
Due to the fact that we're gonna spend quite an amount of money at Tioman, I decided to choose a much more affordable hotel for our stay at Johor Bahru.

#1 I am Jazz Hotel at Bandar Baru Permas Jaya for only Rm100 a night.

#2 It's a decent hotel with basic amnesties.

#3 It's not that bad for a Rm100 room isn't it? Pictures are from their website by the way.
We arrived at Johor Bahru during noon time, almost evening.
First stop was IT Roo cafe to get our hunger fix at Johor Bahru Old Town.
Claimed as 'Best Chicken Chop in Malaysia', IT Roo is one of the oldest established Hainanese restaurant in Johor Bahru.

#4 I ordered Grilled Black Pepper Chicken Chop while Fatty ordered Fried Chicken Chop in Mushroom sauce. Fried chicken chop was a lot better than the grilled one, it was crispy and crunchy with the batter mix which I quite like. Fatty however prefer Yut Kee's chicken chop more than IT Roo's.

#5 Root beer float will always be the bomb no matter where.

#6 Contrast, love the colours of the door and the grills. I also dyed my hair, violet brown or something like that and red ends.

#7 <3

#8 Took a walk around Johor Bahru Old Town after our late lunch.

#9 How so true when we really have the ability to give. :)

#10 A little reminder.

#11 Second stop : Chaiwalla & Co, a container cafe.

#12 Container is love! But I wish they sell better drinks instead of drinks like bubble tea.

#13 Chaiwalla do sell desserts too.

#14

#15 :)

#16

#17 Cute saloon and rooftop cafe but the cafe seemed close, so we didn't get to try.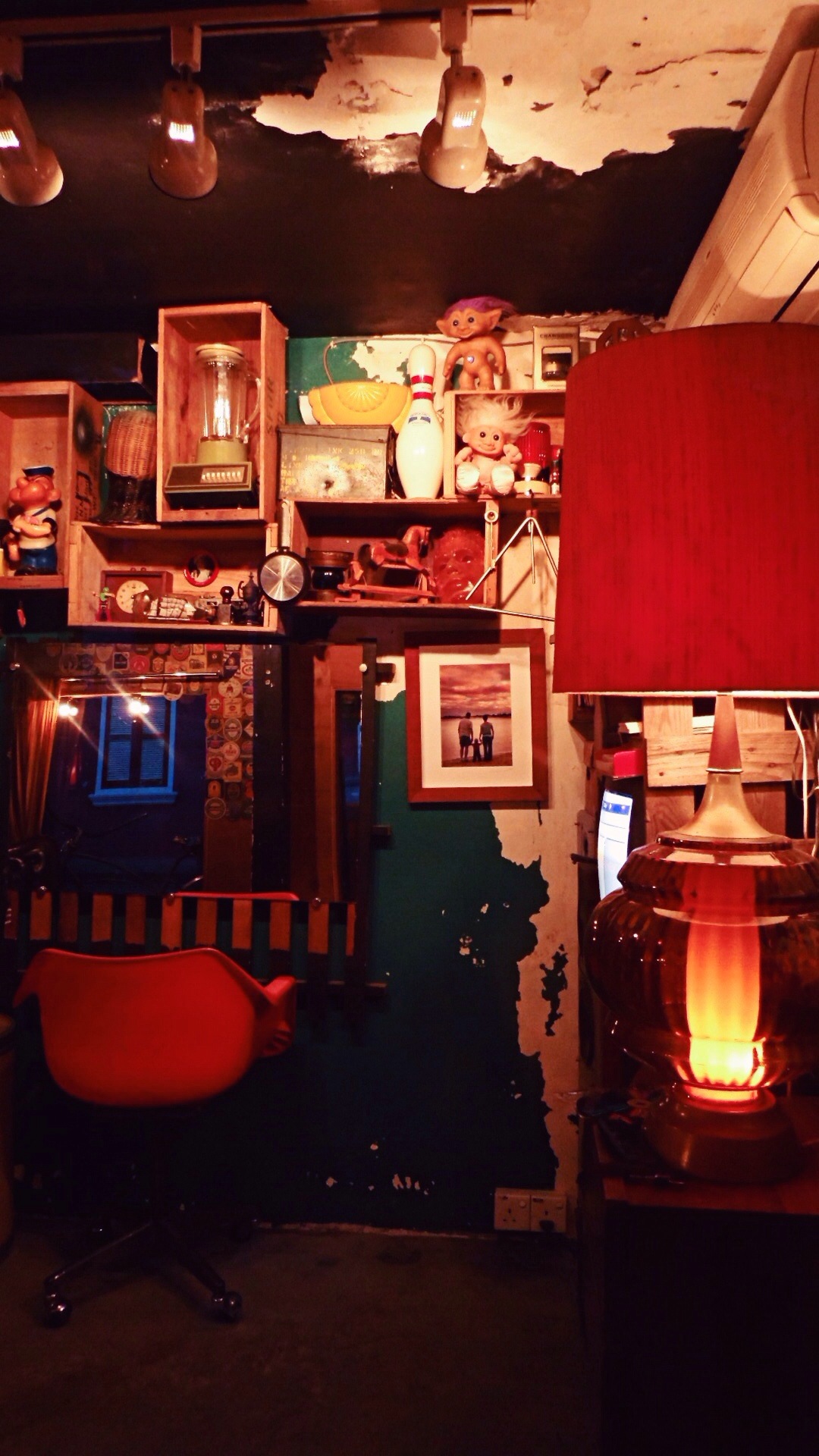 #18

#19 Roost.

#20 Roost Repurposed & Recycled that's just few shops away from Roost. They mainly serve drinks, yogurts, and salads.

#21 Fascinated by the fact that the shop owner built almost all the furniture himself, I made it a point that I have to at least drop by.

#22 When I have a house of my own, I really do prefer doing-it-myself too instead of buying because that way I get to have what I really want. I only wish that Fatty will agree with me and we can get our hands dirty together in the future. :D

#23 A rather different approach from KL's cafes designs.

#24 Don't you agree?

#25

#26

#27 Open air where you can gaze at pedestrians passing by.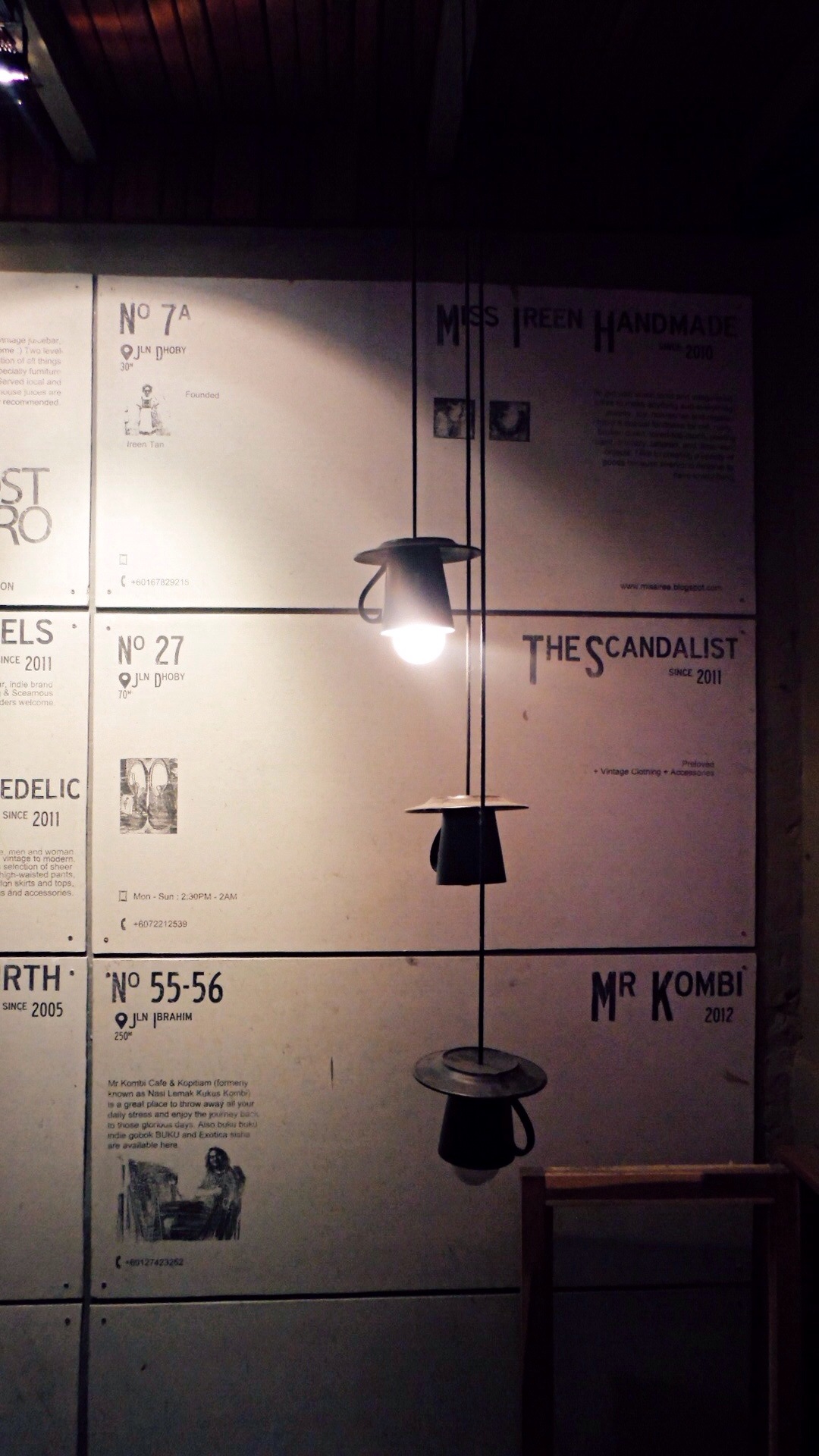 #28 How you can make full use of unwanted cups.

#29 My Fatty who dreaded going to JB with me but it's not so bad after all.
We were really full from all the coffees but my boyfriend has got this hope that we can actually eat some Johor Bak Kut Teh. Unfortunately Bak Kut Teh restaurants at Johor closes really early. Would actually love to try it.
I also secretly wanted to go to Danga Bay after I saw online that there's a funfair over there but I kept quiet because funfair doesn't sound so much like a Fatty's thing.
To my surprise, he said he wanted to bring me over without me even mentioning anything about Danga Bay. :D

#30 Yay!! Funfair!! :D

#31 I was extremely happy like a little kid.
It's a permanent funfair and I must say it's a really good one. It's big, filled with a lot of rides.
A really good place for family on a Sunday evening.

#32

#33 You gotta love a two tier merry-go-round. :)

#34

#35 Blur picture in the train. And yes, Fatty bought me a heart shape helium balloon. Hehehe.
It was very fun especially when Fatty agrees to go on rides with me.
It's rare that he will agree to go on a merry-go-round with me you've got no idea. <3 But the bumper car which he enjoyed the most made me feel like I'm about to die. The collisions were so hard I actually felt pain. Pfft! Despite that, it was a lovely lovely day. I only wish that we could arrive at Johor earlier so that I can cafe hop more.

#36 Days like this is what makes me happy. :)
I Am Jazz Hotel
Add: 122-124 Jalan Permas 10 (Bandar Baru Permas Jaya), Masai, Johor 81750

IT Roo Cafe
Add: 17, Jalan Dhoby, Johor Bahru, Johor 80000.

Chaiwalla & Co
Add: Lot 2810, Jalan Tan Hiok Nee (Wong Ah Fook), Johor Bahru, Johor 80000.

Roost Repurposed & Recycled.
Add: 1, Jalan Dhoby, Johor Bahru, Johor.