I went to watch Secret yesterday with a bunch of friends. I never plan to watch this movie actually. No offense to those who like Jay, but I am not really interested in his movie except Initial D which is a must watch. So since my friends asked me to go and I've saw some review on this movie that this is a good one, I just give it a try.
Well, I must say this is indeed a good movie. Totally not what I expected.
I know this is a love story, I sweet story, but the whole story line just shocked me.
This is a great movie, really. Jay gives a very different feel in this movie.
He is humorous and cute (the way he act, not his look). The whole movie is fill up with piano and I just love the sound of piano so much. I've like piano since I was small although I suck at it.
I'm not sure, maybe it will bore some guys but all of us like it. But if you like piano and music just like me, I think you should really try this out.
I saw this poster at Time Square's cinema. I cartoon by Disney and its in Chinese I think.
It looks really cute and I'm waiting for it, I really wanna watch.


Cute right? Yes or No?
I really like to watch cartoon a lot recently, I don't know why. I guess that they really are producing a lot of nice cartoons, like Shark Tales which I've watch for more than three times. Haha, Shark Tales are so funny. :D Chicken Little, Cars, Finding Nemo, and lots more. Recently they have Ratatouille which I have waited for so many months, like more than six months.
I've watch it and I must also say, I like it a lot. Nice graphic, nice story. I just love the whole thing, so funny and cute. I don't wanna talk so much, I just love it, and I love Linguini :), I don't know why.
After the movie we went to have our dinner at Yulek Kampung Cheras Baru, Restaurant Kam Kitchen.
The food there was really nice, and not really that expensive.


Fishy that I like a lot when I was small. Every time when my family and I went to Chinese Restaurant, my brother and I will definitely stand and look at those fishy.

The Choi Tam, I love this vege.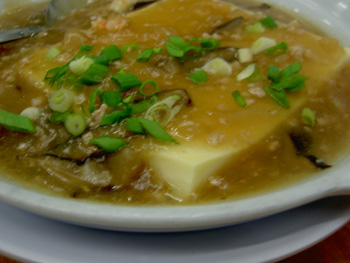 The taufu.

The 'Three Steam Egg', contain normal egg, salty egg, and I don't know whats that name call – blacky egg.

My favorite dish, lai you har kau, I tell you, the yellow lai you is damn good.

Pork ribs.
I don't know the address of this Restaurant, and I don't know the way either because my friend brought me there. Ok, I guess thats all. :)