Sorry for taking my own sweet time to update posts on Bangkok trip, I don't even know what I've been up to lately.
Tired, restless, and really lazy like all I want to do is just sleep. So much so that I feel like I want to just sleep forever LOL.
So after our half day trip at Maeklong Train Market and Amphawa Floating Market, we headed back to city and checked into Sofitel So hotel.
Sofitel So is located near Lumphini park and station is just few minutes walk away.
Situated on the corner of Sathorn and Rama IV Roads Sofitel So Bangkok is an intrigue-steeped 5-star hotel with a resolutely contemporary outlook.
At the heart of it all The Tree of Life – an emblem designed by famed couturier and design legend Mr. Christian Lacroix – combines the five elements of Water Earth Wood Metal and Fire into uniting icon.
Discover these elements reflected in the design themes of the hotels luxury rooms and suites. Four leading Thai interior designers each bring to life Water Earth Wood and Metal with their own inspired vision.

#1 Greeted by a Mini Cooper that is full with lighted present boxes. Oh wait! I just realised this Mini Cooper is mimicking a reindeer. -_-'

#2 A very welcoming lobby with a dare-to-be-different-Christmas-tree.

#3 Even their welcome drinks look exceptionally pretty! Love the colors.

#4 What looks like a blue welcome drink is actually a purple welcome drink after your stir it. Attention to detail, I like.
Hotel rooms are separated into four different elements ranging from water, earth, metal, and wood.
Each pair picked a different element for a different experience.

#5 Situated on the 21st floor, Belinda and Bernice picked earth element.

#6 Among all the elements, I like earth the most although I don't know why their feature color is blue. Very confusing at some point because isn't blue suppose to be water?
I'm not a person who fancy blue color that much but I just really like Sofitel So's shades of blue.

#7 Love love love love.

#8 Earth element's room door and sleeping area is separated by a bathroom and when one is showering, there's no way you can pass through the bathroom without walking pass a naked person lol.
Walking pass a fat naked man, I lagi love. HAHA!

#9 Fatty's parents went for water element and this is the walk-in wardrobe area.

#10 Really really comfortable and this is Fatty's favourite element.

#11 Oh, for each room you can also surf the net through the television with keyboard provided. How convenient.

#12 I really like water element too for their bathtub.

#13 SEE! OMG!!
I love bathtubs since I was young and the only thing I looked forward to when staying in a hotel was the bathtub.
When I was young, the first thing I will check upon entering a hotel room is their bathroom.
Once I saw a bathtub, I will smile and deep in my heart I was jumping with joy.
As for now after so many years, my heart still jump with joy especially when there's unique bathtubs involve.

#14 For the both of us, we choose wood element. I also really like their unique designs for door numbers.

#15 Very mature and steady kind of design. A little too steady for me haha.

#16

#17 When I showered, that glass door was too weak to stop water from flowing out so the floor was really wet after showering. Which is good because after one night sleep, I changed to Metal room. Hahaha.

#18 Scale for Fatty to weigh himself after all the food he consumed.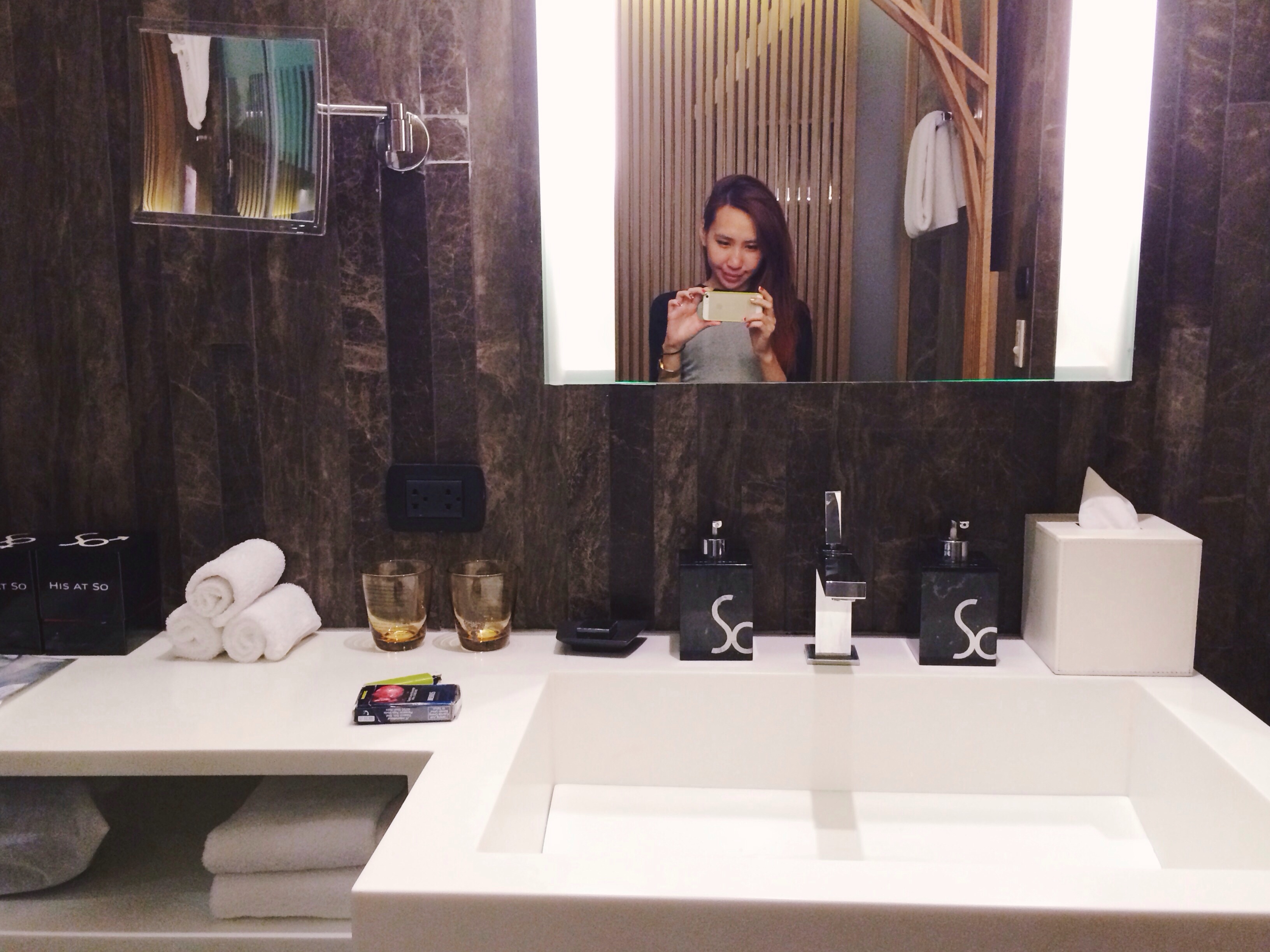 #19

#20 After checking out all our rooms we went to have a look at their pool. I don't know, this above to me is such a brilliant design! I was like, 'OMG Bay look at this, look at this. So clever one the design!' and he totally ignored me fml. Okay lah maybe it's just me LOL!.

#21 Fatty's dad was tired so he rested in his room while the remaining five of us waste no time. Then we came across a street protest outside Terminal 21.

#22 Experiencing Bangkok's protest first hand but it was peaceful, nothing major.

#23 Fatty and his babes, haha.

#24 Everyone was craving for cakes and coffees so we randomly walked into Farm Design.

#25 Farm Design sells Japanese cakes and drinks.

#26 Lots of flavors to choose from.

#27 Green tea cheesecake and I-can't-remember-what but both was really good.

#28 I ordered Hokkaido milk frappe or something because I really wanted to taste Hokkaido milk again but this taste nothing like it. Was really disappointed. :(

#29 Dinner was at Sra Bua, Kempinski Hotel. We initially wanted to have our dinner at Nahm, which is a very famous restaurant for fine dine but they were fully booked for 2 weeks wtf. Fully book for 2 friggin weeks!?
Nahm just went into my must try list the next time I'm going to Bangkok and I will book 3 months in advance pfft.
We ordered 3 sets to share and additional entree.

#30 Nibblings; Soy roasted cashew nut meringue, Kaffir lime leaf scented lotus root, and Prawn cracker with Chili Tomato.

#31 Fried mullet with tamarind, lemongrass, and crispy prawn.

#32 Food did not impress much although presentation did. It's good to be innovative but you must really hit the right note.
There's a lot to try in their set menu but I really wouldn't recommend them to you guys.
They're not that bad but just really not worth the money and time.

#33

#34

#35 After dinner, we all headed to Lebua at State Tower because Fatty wants to bring his family over to have a look.

#36 Breeze.

#37 Headed back to hotel and the two of us went up to Sofitel So's sky bar. Everyone else was too tired for another round. The lifts are separated into four different elements too.

#38 I kind of like their bar, I like how they look really different from the usual sky bars.

#39 And really comfy too because they have day beds for me to just sit and do nothing.
Sometimes it's nice to try out the not so famous sky bars and you might be surprise how enjoyable it can get.
Sofitel So
Address: 2 North Sathorn Road, Bangrak, Bangkok 10500, Thailand
Tel: +66 2 624 0000

Sra Bua
Address: Siam Kempinski Hotel Bangkok, 991/9 Rama 1 Rd., 10330, Thailand
Tel: +66 2 162 9000