Good Morning! Its day number 2 in Malacca. Haha, I know I'm lame. -.-

* Well, that's my feet on Twenty's wooden floor.
The Wah's family sleeps like a pig and the other 3 of us woke up quite early to roam the streets again.


* Er…. the green gate….
After the 3 pigs woke up, we went back to Twenty to camwhore. :"D


* Yin Yee, Tall Giraffe, Short Giraffe, and Esther.

* The six of us.

* Do Re Mi Fa So La…

* Twenty's cozy living room. I'm so far behind.

* Argh!!!! Omg, why are we so crazy?

* Pretty flowers…….and pretty us. Muahaha..

* Saying peace to the world.

* A big flower growing on my head.

* The feeling of the reflection is very nice.

* We check out and saw this English man outside the corridor. He is so so tall, we short people decided to take a picture with him. And omg, he use Leica camera.

* This is at a Peranakan Restaurant and it don't really taste good. The interior is better than their food. -.-

* Getting ready to leave to the red red building in Malacca. I don't know whats that call. Peace again.

* My friend say I'm shitting inside. -.- By the way, its spacious inside there.

* Wah Foon and Wah Hei sitting on the hole I shit in, hahaha.

* Christ Church Malacca

* No idea what this two silly are trying to do.

* The other five.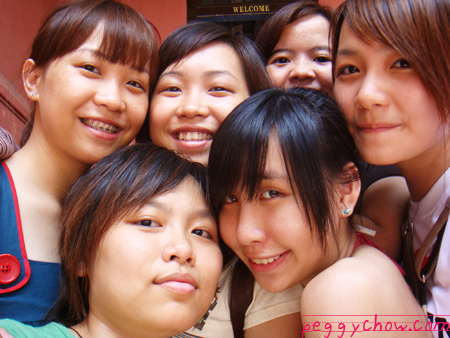 * Oops, I cover Wah Hei's mouth. Head is too big, haha.

* After once again sweating like a pig while taking all these pictures, we head over to Dataran Pahlawan to support our friends for the don't-know-what-988-global chinese-don't-know-what-la.. The 2 other girls are local singer called W.H.Y and the girl in blue is our college friends. So we have to go support sikit. :"D

* And this is all the cute stuff I bought from Malacca. Very very cute stuff. The terrorism tee is bought from Orang Utan House.
Overall, the trip is very fun. Just that it will be even better if we could stay for 2 nights so we don't have to be in rush. The money for accommodation, petrol, toll, and foods cost each of us Rm95. I would say its rather cheap. Hehe.. That's about it for our Malacca trip. A little story from me below…
Well, wanted to say this in my previous post but I don't have much time at that moment. Ok, here goes. On the first day in Malacca which is on Friday, when we walked on the streets which looks like Pasar Malam, I saw this newspaper stall. I took a quick glance and I saw this huge accident on the cover page of China Press. So as I glance through I asked, where is this? The newspaper auntie answered me Cheras. I was stunt and I quickly take a better look and see which part of Cheras it is.
Omg, to my horror, it is the highway I pass by almost everyday. It is the highway which is so near to my house. It is the highway I use to go college everyday. It is the highway that we used to go to Malacca on that same morning. -.-
Knowing that we just left that highway around 9 and the accident happened happen around 9 something, it really send shivers down my spine. We actually planned to have dim sum at Connaught, but then we are all so tired. If we were to stop by and have our little breakfast there, I guess we will all be able to see the accident. And if were a little late, we might be caught in the jam or whats worse, involving in that accident. Now every time I pass by that highway, I am kinda afraid.
*Scared*