Theme party is love and I've always love a good one.
I organized a buay paiseh colour theme party for my 21st birthday four years ago and colour theme party is the easiest to organize without a doubt.
Guys wore black, girls wore white while I wore red because I buay paiseh hahaha!
After my own 21st I helped with my BFF's bow tie 21st birthday party where all guys were required to wear shirts while the girls wear tube dresses along with the bow ties we handed out to them.
Not to forget the pastel birthday party I had with my girls and Vivien & Cindy's rainbow birthday party.
To level up a notch, (HAHA) I tried not to organize another colour theme party.
I organized a construction party on Labour Day's eve for my fatty's 24th and it wasn't a random pick.
Some of you may wonder, aren't my fatty suppose to be back in Melbourne. Yes he was suppose to but there were visa complications and he will only be able to go back by next year. Currently he is working for his dad at a site, hence construction site party. :)
It was a funny research because all the construction party pictures and ideas I saw when I googled was construction party for little boys but my boy is 24!
I tried hard to eliminate everything that looks too cute.

#1 I booked the whole Sekeping Terasek at Bangsar and kept the entire surprise from Fatty.

#2 42A.

#3 Sekeping Terasek is a two storey terrace house, with a rooftop and a dip pool.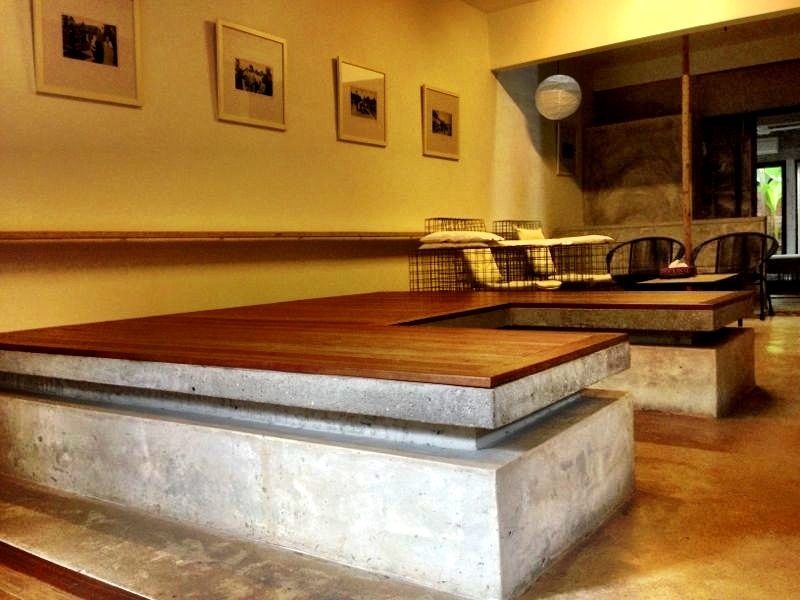 #4 Living area where the guys chilled during night time.

#5 Gotta love natural skylight.

#6 This is the room Fatty and I slept in that night, on the ground floor. I was smart enough (LOL) to pick a room on ground floor cause there wasn't any please-help-me-drag-my-fat-boyfriend-upstairs kind of story when he was drunk.

#7 Little outdoor area in the room.

#8 Shower.

#9 One of the room upstairs.
There are 5 rooms all together and those who stayed for a night were all couples and each coupled paid Rm200 for the room.

#10 How it looks like outside the room upstairs.

#11 So much love for this place.

#12 From the second floor, I can see what's happening downstairs.

#13 Mini stairs to the rooftop.

#14

#15 I knew Fatty will love this rooftop a lot and he did but he got drunk too early, he didn't get to enjoy it.

#16 My friends helping me to set up because I WAS TOO BUSY TRYING TO COOK!!
I bought construction tape and decorate the house with it, along with three helium balloons.

#17 My bff who helped me right after she came back to KL!

#18 Made a total of four finger foods for the guests.

#19 Bacon wrapped seared scallop in asparagus puree and watermelon prosciutto with blue cheese.

#20 Smoked salmon timbale with spicy crab meat and foie gras on bruschetta with fig compote.
I printed some signs that are somewhat related to construction and used it to decorate on my food.
That smoking sign you saw wasn't suppose to be there, it was suppose to stick on ash trays but I was tooooooo busy the whole day I can't seem to manage.
My dear friends lend me a helping hand and helped me to decorate the rest of the party without knowing the purpose of some signs heh.

#21 Bought black paper plates & straws, yellow utensils, and orange cups & serviettes to match my construction theme.
Besides the four finger foods, I made two pasta as main course which I learned from Nathalie but it kind of failed quite miserably. :(
Before the night of the party I prepared all my sauces for the pasta but when we transferred these sauces from the car to Sekeping Terasek, it dropped and spilled. :(
So I ended up going to grocery again and recooking everything on the spot which is what made me sooooooo busy the entire day.
I was a mess and became even messier because I couldn't handle so many things.
My timing were set right but due to the spill, I was really off track which somehow contributed to the failure. Pfft :(
My friends really love my mushroom tagliatelle though but the ravioli couldn't make it unfortunately.
I hope I didn't starve my friends. :\

#22 Construction birthday cake! :D I initially wanted to order Fatty a floor plan cake but Wondermilk couldn't make it happen for me because they don't use fondant and the reason I picked Wondermilk is also because I don't really like fondant. I prefer butter icing but it definitely has it's limit. In the end I ordered Chocolate Lola cake and decorated it with some construction toy sets and a set of builders candle which I bought. It turned out pretty well and as expected, I secretly like it a lot. Heh.

#23 My fat boy was kinda tipsy by then, he couldn't recall how the cake exactly looks like the next day. As long as he is happy lor…

#24 Pictures were mostly taken by friends once the party started, I was still busy doing this and that. So thank you very much my friends for capturing the moment. :)

#25 Poor fat boy were then tied to the pole with the caution construction tape.

#26 I somehow got stuck with him too when I tried to help. I also bought him the construction hat as a prop but soon enough he will be using it everyday at his site. :)

#27 Booppi, me, and fat boy.

#28 18sx! His hand was at a very wrong place aherm. -_-'

#29 The girls were busy taking pictures while the guys were busy talking about nonsense behind.

#30 :)

#31 Fatty's redness from alcohol + his darkness from standing under the hot sun everyday = a colour I cant describe.
He used to be so fair but look at that picture above! D:
After taking pictures and him babbling out all the nonsense (which shall remain a secret among us friends), he took off his clothes and jumped into the pool.
He knocked himself so hard, I was worried to death but because he was too tipsy to feel it he said he didn't knock on anything. Mmkay.
Once he got up from the pool, he got so drunk he vomited in the bathroom and ko-ed for the night dafuq.
I WAS WAITING FOR THE PARTY TO END SO THAT WE COULD CUDDLE BUT THEN HE KO-ED!! RAWR!
No one sayang me after a day of hard work lol. :(
To all the friends that came, thank you so much for coming and to Bryan Chong thank you for taking the picture above.
To Weng Kee, thank you for fetching me so often to supermarkets so that I can get all my groceries for the party.
To Bff, thank you for helping me with the cooking and bringing back my props.
To Billy (although I know he doesn't read this wtf), thank you for helping with the surprise and successfully tricked Fatty into thinking that he's attending some posh event LOL.
To Abel and Poh, thank you for lending me a helping hand when he was drunk and sorry that you guys have to take a look at his naked body LOL!
Dear Fatty,
A year older, a year wiser they said and I think to some extend it is true when you hit 24 this year.
People may have judge you or may have talked a lot about why are you still here instead of finishing your course but there are a lot that they don't know or see in you.
I am very proud of you because you take your job so seriously this time, it kinda scare me a little.
You seem to be so passionate and so responsible that you even goes to work on Sunday sometimes.
You don't mind the extra time, the extra work, the heat and getting sunburn because all you want is to do a good job for your dad.
How can I not be proud of you (although you're very fat)!
Keep it going!
And this time next year, you will be so much more closer to where you stopped. :)
Ending my post with a picture of…..

#31 Fatty's fatness. HAHAHAHAHAHAHA! Continue growing wiser but definitely needs to stop growing horizontally.
SEKEPING TERASEK
42A Jalan Terasek,
Bangsar, Kuala Lumpur.
Tel.: 012-206 2846 (Christina)