My title says it all. Was suppose to go to Maison on Friday night, but some friends decided to pull out last minute.
And I really feel like going out for some alcohol and nice music, wanted to chill a little.
Sky Bar we went. Second time being there, first time was 2 years ago I think, just went there to have a look.

* Camwhore while waiting for them to reach. :'p

* :')

* Our very own KLCC, really beautiful.

* Me and Ee.

* Only the four of us that night.

* Kok Hoe, who always say no to me whenever I want to take pictures with him.

* My Baileys Irish Cream, Ee's orangey thingy, Kok Hoe's mint thingy, and Jones draft beer.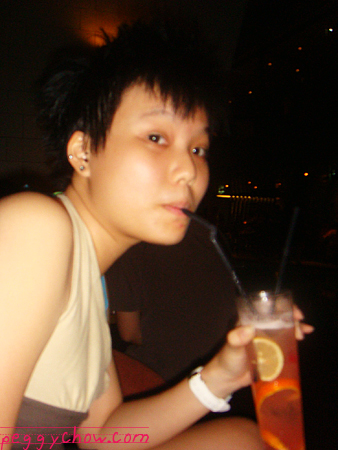 * Caught in action, haha.

* Baileys is really delicious, it taste somewhat like chocolate and its sweet. Perfect for noob girls like me who cant really drink, hahaha.

* Jones buddy, DJ C Master and Jones.

* Our white wine, surprisingly its rather cheap.

* I'm always holding tissue, no idea why.

* Woman and man, lol.

* DJ C Master.

* Camwhore in the toilet, what we do best. Hahaha.. :'P
Sky Bar is really a nice place to chill, very nice surrounding and also very beautiful night scene. Will definitely go again if I have the chance to. : )