Currently KL's Best Kept Secret, HELI Lounge Bar is a brand spanking new dance club that is set to take KL's night scene by storm and may no longer qualify for that catchphrase soon. Located on the 34th floor of Menara KH in the heart of the Golden Triangle, an ultra-cool clubbing experience awaits behind the nondescript main entrance.
Bored of the usual sky bars or rooftop bars? Heli Lounge Bar is here to give rooftop bar a twist because it's no ordinary rooftop bar.
It's a rooftop bar on a helipad with 360º panoramic view of Kuala Lumpur with no window, no fence, and no barrier.

#1 Pictures taken from Heli Lounge Bar's Facebook. Be sure to stay behind the yellow line as there isn't any safety barrier for now.

#2 I must say this might just be one of the best spot in KL to watch a beautiful sunset.

#3 If you're not so much of an outdoor person, there's a lounge just few stairs below, decorated in black and white.

#4 Standing on top of a helipad with no barrier gave an awesome feeling, especially with such a nice view. (OKAY I PROMISE TO GET A NEW CAMERA SOOOON!)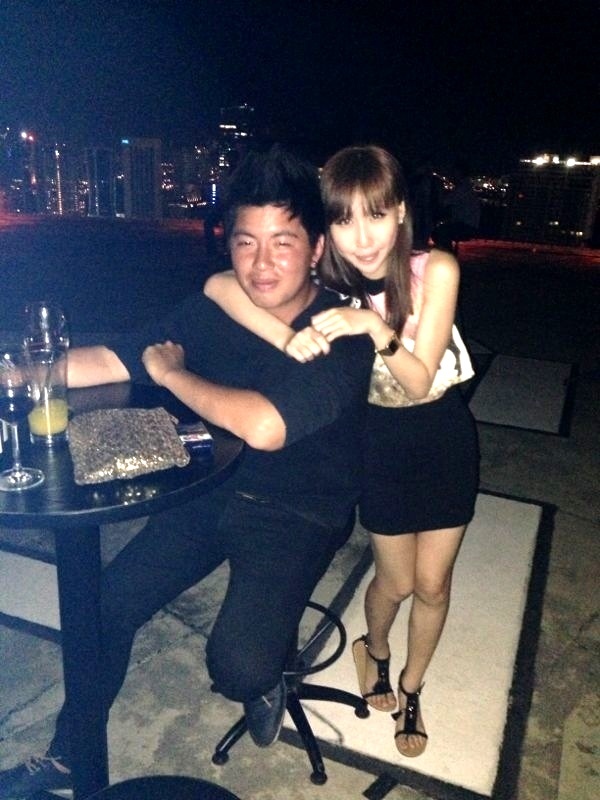 #5 My fats and I.

#6 I have to tiptoed because I left my heels in Fatty's car. :(

#7 Both my Bffs.

#8 I love sitting on the low chair compared to the bar stool because I feel much more relaxed and I get to look up at the sky. :)

#9 I miss her so much already!
I would like to give Heli Lounge Bar another visit for a sunset view, I've saw pictures of them and the pictures looked too beautiful for me to ignore.
Fatty, please take note. Haha!
So if you'll like to go and experience chilling on a helipad, do go during evening before the sun set and do make a booking too.
Or else you might risk not having any seats on the helipad unless you don't mind standing.
Do check out their Facebook page for events as they do require a cover charge.
HELI LOUNGE BAR
34th floor,
Menara KH,
Jalan Sultan Ismail, KL
Tel: 03 2110 5034