Hello, I am finally all settled down in my second home after like about ten days and a series of vomiting and purging.
Yeap, second day back and I had some food poisoning issues going on but I had good friends who came and cooked me porridge. :)
3 weeks of holiday made me came to a conclusion that I will head home during mid year come rain or shine.
This short holiday back home helped ease my heart and at the same time opened my eyes yet again.
When you've been away for too long or too caught up with whatever that holds your heart you'll tend to miss out on a lot.
Although my mom didn't exactly put it in words I know that she is very supportive of my decision so for now I just have to do what I am supposed to do which is to work hard for the next few months, then pack up and leave.
It was nice to have my mom send me to airport (that's a first) due to some unforeseen circumstances but at the same time I felt really heavy hearted to come back to Melbourne alone.
Why does it never ever gets easier?
I know the remaining months won't be easy but I just feel glad for everything. I wouldn't trade what I have now for what I had in the past.
Interesting life experiences make good stories in the future.
Here's some pictures I took during my holiday with film, except the first two.\Went for high school Chinese New Year gathering but before that I went back to my high school and had a stroll despite the heavy rain.
I miss those carefree days when my only worry was what to eat for lunch.
Should I go for nasi lemak or french fries and how about that fried chicken? Haha.
Love my 'finger' cheong sam which I bought last year but didn't get to alter it on time. 
Buddies I went to school with.
More than a month back I gave my mom a call and requested her to look around the house for our old film camera but she was too lazy so I ended up searching for it in my entire room. And there I have it, my mom's old Kodak VR35.
I think she likes the idea of me shooting film too, she seems a little excited like she asked if I know how to load the film haha.
Below few pictures were taken with Kodak VR35 and Agfa Vista 200 but I didn't quite like the way it turned out. I'm not too sure if it's the camera or the film.
The outcome weren't very sharp and the colours turned out a little dull, or maybe the days when I took pictures were not sunny enough.
I'll try the camera again with at least iso400 next round. Or maybe flash, maybe I'll try flash with this camera.
Light leaks.
I loaded the film, took a few pictures of my mom and suddenly realised the film counter might not be accurate. The paranoid me was unsure if I loaded the film correctly so with no choice I opened up the back of my camera (yeap now it's mine) to make sure and as expected I destroyed the first few pictures I took of my mom. Hence all these light leak pictures. :(
Bentong.
The day when I prayed for a lot of things. 
Someplace beautiful.
Below pictures were taken from my Fujifilm Mini Tiara and Agfa Vista 400 which highlighted a lot of blue tone.
Here comes the bride! (vvens.com)
These two cuties!
Why do I look so out of place?
This picture is super cute! Jia Jia blocked her face with the rose hahaha!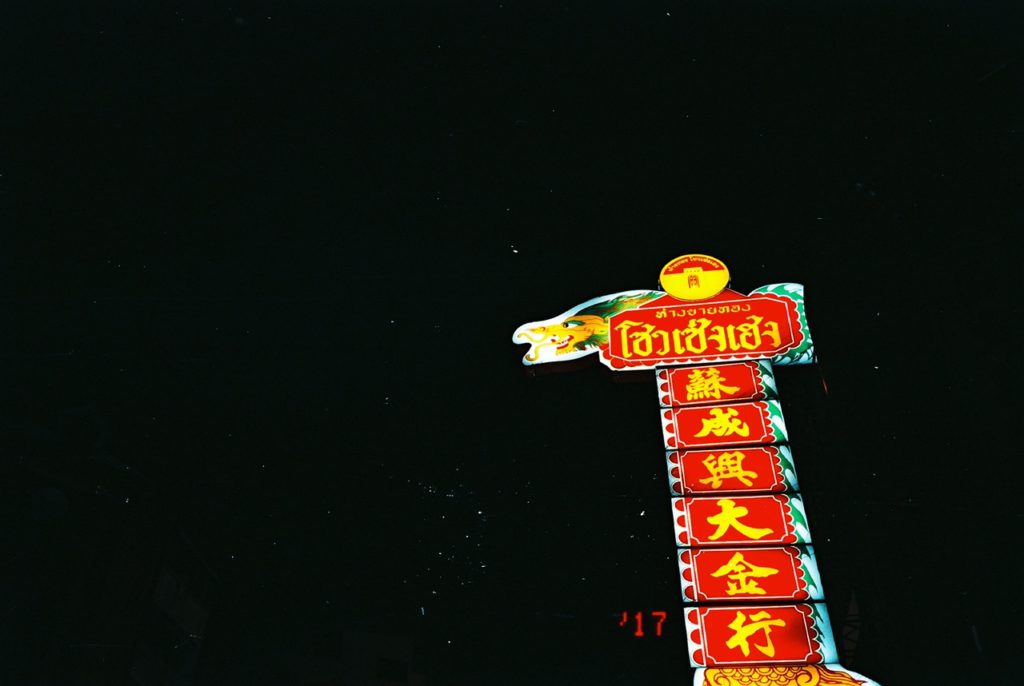 Bangkok Chinatown, 02 17′.
Mom why your eyes no open?
Look at the exaggerated blue tone. 
Grand palace which we ended up not going in because the tickets sold were quite expensive and queue was extremely long. 
I really need to focus my mind when taking pictures with film, at times I still snap it like it's a digital camera. Need to train my patience. 
And this was taken with Kodak at Melbourne rooftop bar. For some reason it took me so many weeks to finish up that 27 exposures. 
I developed my agfa 400 in KL that costs less than 50% of what I paid in Melbourne but it took them more than a week to get it done while my agfa 200 only takes a few hours for Digi Direct to send those files into my email. Talk about efficiency.
Ok my efficiency is shit too cause it took me so long to update my blog but since I somehow made the old laptop at home work now I will be more efficient!
(I have troubles deciding which photo to upload on instagram and which to post it here.)