LOKL is currently one of my favourite cafe!
Fatty and I, we both love exploring and spending our time at cafes but due to his busy schedule I had my first visit to LOKL with my bff instead when she was back here.

#1 LOKL is situated on Jalan Tun H.S.Lee about ten minutes walk from Petaling Street and they share a common place with Backhome hostel, which is also a very lovely place for backpackers.
I went to LOKL twice, as mentioned the first time with my bff and the second time with Fatty because I needed to share my experience with him.
The first time, we parked our car beside Reggae's Hotel which is just one traffic light away from LOKL and the second time we walked from Petaling street under the hot sun.
It's your call whether to park nearby or to take a long walk.

#2 Decos in the cafe.

#3 Although it was scorching hot outside but once you step into LOKL, it'll take you no time to cool down as they really blast their air-cond.

#4 Ample amount of natural sunlight.

#5 Arts hanged on the wall which we Malaysians can definitely relate to.

#6 I of course do not have much chance to enjoy LOKL's indoor because I have smoker friends, so outdoor it was.

#7 This is the outdoor area which LOKL and Backhome hostel share.

#8 Love the wall.

#9 Thank God it wasn't at all hot at the outdoor area, to my surprise. Even though there isn't any fan around, it was very bearable but having a fan or two sure doesn't hurt as well.

#10 Simple menu.

#11

#12

#13 I love drinking coffee but I really do not know what's good and what's not unless they really do suck.

#14 Mango pudding which is rather pricey. Rm7 or so, I couldn't remember.

#15 Homemade quiche, with chicken and mushroom in it for Rm8.90 which taste really decent.

#16 Me bff with her ever changing hair.

#17 I ordered afogato on my second visit and I love it. I dislike my coffee with a tinge of sourness, I like it with a little sweetness but not the sugar kind of sweetness. LOL I don't know what the hell I'm saying, I just like it with vanilla ice-cream in short. Or cream wtf.

#18 Hainanese Meatloaf, sandwich bread stuffed with chicken, chestnuts, and prawns, then fried till golden brown for Rm15.90.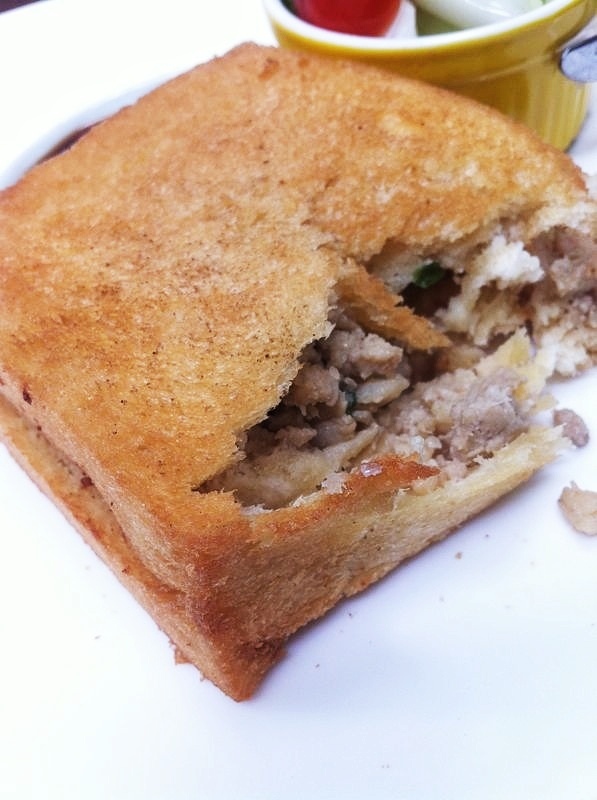 #19 It really does live up to it's description, golden brown and crispy on the outside. It smells uber good once we're served with Hainanese Meatloaf and in a weird way, it smells like fillet-o-fish. When dip in the Worcestershire sauce they provided, it gave the dish a tinge of sourness to balance the taste.
LOKL was also own by Cheryl Samad which I wasn't aware of.
I thought to myself, 'This waitress look really pretty and she has a beautiful smile' but it struck me to realise she is Cheryl Samad.
I used to watch her on TV during my teenage days and she still looks the same, haven't age a day.
One thing that I dislike about LOKL though is that they operate in within a very weird time.
They're not open on Sundays and they closed at 5pm everyday. PFFT!
LOKL Coffee Co,
30, Jalan Tun H.S. Lee, Kuala Lumpur.
Tel: 03-2022-0788
Opening times: Mon-Fri, 7.30am-5pm; Sat, 8am-5pm