Most of the time, people think we're crazy for always choosing different hotels during our vacation instead of just one.
To them, it's a hassle having to check in and out of hotels everyday and not to mention travelling from hotel A to hotel B with more than one luggage.
I know all these hassle can be quite a turn off but I'd say a little hassle is always worth it.
Besides visiting new countries and places, learning their culture, savoring local foods and what not, experiencing different hotel is one of the many things I look forward to.
Other than the good experience, staying in different hotels gave me a better idea on how I want my future house to be IF I'M LUCKY ENOUGH TO HAVE A HOUSE WHEREBY I CAN CONTROL THE WAY IT LOOKS.
On the third day, we moved from Mini Hotel at Central to 99 Bonham at Sheung Wan.
Antonio Citterio Patricia Viel and Partners envisioned a sculptural form for 99 Bonham, using sleek proportions that resemble the scale of an industrial design project. The monolithic glass façade and reflective tiles bring an almost abstract quality to the building, like that of a desirable object.
It was a very good stay equipped with high quality furniture that exudes a sense of elegance.
Shower amnesties were from Locitane, bed sheets from Frette, just perfect.
There are three different rooms to choose from, standard suite, premier suite and deluxe suite.

#1 I booked deluxe suite because it has the highest floor zone from Agoda and I was charged at Rm540 for a night. It was supposed to be Rm700+ but my Agoda rewards managed to give me a better price.
But my suggestion is this; just go for standard suite (the cheapest choice) because there isn't a point staying on the highest floor zone without a good Hong Kong view. Might as well save some extra bucks.

#2 Dining area. 99 Bonham can make quite a perfect place for a honeymoon staycation.

#3 Bathroom with mirrors everywhere.

#4 Mirrorception.

#5 There are rooms with bathtub and there are rooms without and if you're a bathtub freak like I am, you need to make your request.

#6 Kitchenette area with stove, microwave, mini fridge, and all the utensils you need.

#7 View from our room which totally explains why you don't have to stay so high up.
After checking in 99 Bonham, we took MTR to Mongkok and waited for Foon and Victor at Langham Place.
Both of them went all the way back to Tung Chung after clubbing which is really really far away.

#8 We agreed on having dim sum and nothing attracted me more than this one Michelin star dim sum joint. (But meh.)
Tim Ho Wan has a few branches and only two were given one Michelin Star, the one at Mongkok and another one at Sham Sui Po.

#9 The one at Mongkok shifted to Olympus plaza. I've been hoping to go to a very old scool Hong Kong dim sum joint but turns out it was the total opposite.
There were long queues when we arrived, so we waited for about 20 minutes to half an hour.

#10 Hong Kong style 'Loh Mai Kai' which was huge!

#11

#12

#13

#14

#15

#16 Fried lobak or 'zin lobak gou' which was the best because it was full with lobak.
Not that the dim sum we ate at Tim Ho Wan wasn't good, quality wise it was really better than what I had in Malaysia (the cheap dim sums) but it really wasn't THAT good that they deserve a one star from Michelin.
Fatty told me the dim sum joint he usually goes to was better and it's the old school dim sum restaurant type that I wanted to go to. :(
Tim Ho Wan definitely is not the best so don't bother trying and queuing up.

#17 After dim sum we went over to K11 Mall for Paul Lafayet.

#18 I mean how can I not try Paul Layefet's creme brulee, they are so so goooooooooooood!

#19 We then rushed back to Sheung Wan for a tea break but it turned out to be another eating session. Classified is really famous among the gwailos as you can tell from the picture, and also among the hipster I assume.

#20

#21 That's where they store all their cheeses.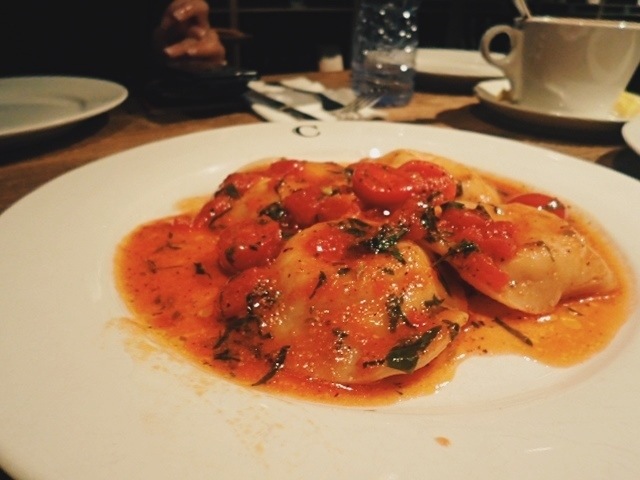 #22 Ordered ravioli, burger, and pizza to share among us four. Food was okay but I'd much rather keep my tummy space for some real Hong Kong food.
I cant remember the price but everything was expensive. A plate of this is for HKD88 and a plate for that is about HKD98 so you do the math.
After our early dinner we went our separate ways, so Fatty and I followed our itinerary to No.9 Central Pier.

#23 One of my Hong Kong's trip highlight was Aqua Luna BUT THEY WEREN'T OPERATING ON THAT DAY BECAUSE THEY WERE BOOKED FOR ASTON MARTIN FUNCTION! Really screw this Aston Martin. A glimpse of Aqua Luna was the only thing I had, pfft.
Aqua Luna is a traditional hand built Chinese junk which has been restored and is now serving as a bar.
There are different packages offered by Aqua Luna.
One day unlimited pass from 12pm-5pm is HKD100 for adult and HKD80 for children.
For evening cruises starting from 5.30pm, ticket is price at HKD195 for adults and HKD155 for children.
The package that I initially picked was 'Symphony of Lights Cruise', priced at HKD260 for adults and HKD210 for children.
Symphony of Light Cruise starts sailing at 7.30 from Tsim Sha Tsui pier and other than enjoying the sailing, guest will get to enjoy Symphony of Light too, on a junk.
Imagine my disappointment.
Okay, keep it for next time and my Ngong Ping too which Fatty successfully talked me out of it.

#24 Took pictures at the pier and off we went.

#25 Walked around Sheung Wan area.

#26 And we came across TenRen!! OMG I miss TenRen ever since I came back from Melbourne.

#27 Walked all the way to tram stop because I requested Fatty to bring me for a tram ride.

#28 I actually quite like taking trams. Heh.

#29 Tram driver offered to take a picture for me. :)

#30 Love how old the tram looks.

#31

#32 We both were really full but I wanted to try Butao Ramen so badly I didn't care. There were 4 flavours to choose from and I picked Pesto Ramen. If Fatty weren't that full he will go for original. He always likes his ramen in its most original flavour.

#33 That's how you choose your ramen, flavour, with eggs or without, with seaweed or without and so on.

#34 Butao Ramen shifted to two streets away from it's old location and it does look a lot like a ramen bar in Japan.

#35

#36 Pesto ramen with two extra eggs.

#37 Eggs were cooked perfectly and the ramen was good too.
After eating, we headed to Mongkok for a walk before calling it a day.
We went to Ladies street and I was hoping to buy a thing or two home but it turned out to be too expensive.
About Rm100 for a bag at a place like pasar malam, that's quite a joke. Haha.

#38 Love the horizontal street lights.

#39 For the male.

#40 Polo bun which I almost forgot to eat.

#41 Stuffed half a polo bun before going to bed with a very full tummy.
99 Bonham
Address: 99 BONHAM STRAND, HONG KONG
Tel: 852 3940 1111
Fax: 852 3940 1100

Tim Ho Wan 添好運
Address: Shop 72, G/F, Olympian City 2, 18 Hoi Ting Road, Tai Kok Tsui
Tel: 852 2332 2896

Paul Lafayet
Address: K11 Mall : G23, G/F,18 Hanoi Road, Tsim Sha Tsui, Kowloon
Tel: 35869621
Business hours: Mon-Sun 12pm-11pm

Classified
Address: Shop 1, G/F, 108 Hollywood Road, Sheung Wan, Hong Kong.
Tel: 852-2525 3454
Fax: 852-2525 3445
Opening Hours: Daily 8:00am – Midnight

Butao Ramen
Address: 69 Wellington Street, Central​​
Business Hour:Mon – Sun, 11:00a.m. – 11:00p.m.