I was craving for Nasi Lemak last night, and so Mr.Teh suggested that we go to Sentul, for this restaurant called Naili's Place. As what he told us, this place is a very unique place to dine in.

I like the double storey hut, its very fun to sit upstairs. : )
They have very nice decorations there. The whole concept is about island. They have yatch, shells every where, small boats, and lots more which I couldn't remember.


I like this swing a lot. : ) I like swings that made out of wood or old tyre..

Three of us ate the same thing, which is of course Nasi Lemak. The Rendang is nice, everything is nice, except that the rice is a little too wet. A plate of Nasi Lemak cost Rm5.90, and its quite worth the price.
Pictures are all too dark, so I have to edit it. It looks so not nice after editing, : (


Mr.Teh and me..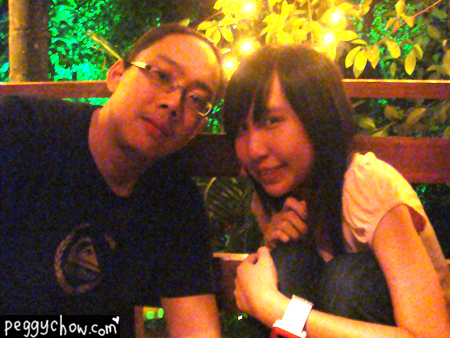 First picture of me and Jones (Sei Banana)..
Some freak thing happen before that…

I took pictures. Snap, snap, snap. They see, see, see.
Eh, how come this picture so funny geh. How come so spooky.
Whats that thing there? And when I took it to see, I went stunt.
It was so scary and it scare the shit out of me and then I scream, and I go shaking, and then I go crazy. Because this picture is taken by me, its even more scarier.

Did you see anything??
And lastly, I went back to the scene and found out that its the stupid leaves. Goddamnit.