Oh dear Nathalie, such fate I have with you.
After so many attempts, finally I get to enjoy such a scrumptious lunch.
Been wanting to try this out since the first time I heard of Nathalie's Gourmet through a friend of mine.
He told me it's French cuisine, well nuff said. And of course, not to forget their famous Macarons and the cooking classes they offered which I am very interested at.
So, if you ask why so many attempts my answer will probably be that there might be someone jinxing it.
Planned to have my last year's birthday dinner but my friend just couldn't make it.
Planned to pay Nathalie Gourmet a visit during the beginning of the year with Ben but yet couldn't make it as well.
This time when he's back, we made an arrangement for dinner only to find out that they're only open till 6 o'clock.
Then we planned for lunch and we couldn't make it on time every single time, either that he needs to help his mom to run some errands or that there's something else going on.
One fine day when we both can make it, they said they're opened for dinner that day and at 3 o'clock, they're only left with desserts.
Mygoodnessake! All the way to Solaris Dutamas and you tell me you're only left with desserts!?
Well fine. I told myself I'll go back again someday no matter what.
Wednesday morning, I called and woke the boyfriend up for our lunch to make sure he wont be late and I wont miss my Nathalie Gourmet.
But bad luck is with me, mom dropped her set of keys and she needs to use mine.
I decided to follow her out and wait outside for Ben but mom said, 'oh, nevermind I've got a set of new lock just use this one will do'.
Okay, since she said so. Yet I was about to follow her out the door and she asked me why do I still need to follow her out since I've got the key.
Oh ya right, so I stayed at home and wait for Ben.
Guess what! When he reached, I couldn't find a single way to open the pad lock, the damn key doesn't work. Lock smith to my rescue which cost a good damn hundred fifty bucks.
Cut the nonsense, I almost miss the chance to dine in Natalie Gourmet AGAIN!
Thank god I make it through this time despite all the crap that is thrown to me that morning.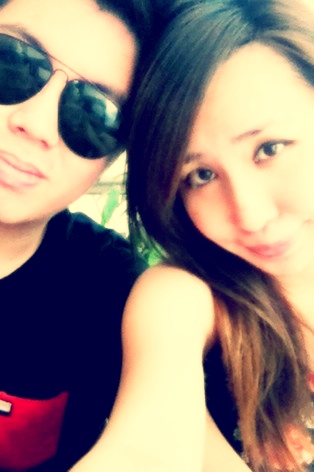 * Not so beautiful morning but a beautiful afternoon (:

* Nathalie Gourmet Studio.

* The interior. Not too fond of their tables and chairs, not exactly a very comfortable seat.

* The bread and butter itself already taste so good.

* Norwegian Poached Egg, Chive Emulsion for Rm28. The salmon together with poached egg is marvelous.

* Pan fried scallops, Fresh ginger sauce, and Melted leeks for Rm31. As usual if there's scallops on the menu, boyfriend will order it. That sauce is one helluva sauce, I don't even know what is the right word to describe it.

* Beef tenderloin, Potato Mille-feuille, Greens and Revised Bernaise Sauce for Rm50. Medium well for the beef and it is perfect. So perfect that this is one of the best as long as I can remember.
Only three dishes for us, an addition of dessert would be perfect but we skipped it since the dessert menu somehow did not attract us.

* However, the colours from Macarons did attract me. So much more colourful in real life (:

* Bought five Macarons for Ben's mom and sisters and they said it taste good. Rm20.75 for a box of five (:
Absolutely love the food there and I really want to join the cooking class so badly for I know that it will not disappoint me.
Definitely will return to enjoy delicious meal again and also try out their new branch called Cuisine Gourmet by Natalie at KL.
Nathalie's Gourmet Studio
Unit A4-1-5 – Solaris Dutamas,
Jalan Dutamas 1,
50480 Kuala Lumpur
Tel : 03 62 07 95 72

Cuisine Gourmet by Nathalie,
Menara Taipan, Jalan Punchak,
Off Jalan P. Ramlee, Kuala Lumpur.
Tel: 03-2072-4452