Yo people : )
I'm happy.
Because I get to follow my mom to eat seafood last night. : D
Its been such a long time I did not get to eat all these super good food.

Bei Hai Restaurant which is located at Selayang. The name of this restaurant is so funny, me and my brother laugh like mad when we first saw it. At first I don't know it is translated from the Mandarin wordings and we ourselves read it as Cantonese version. 'Bei Hai', some dirty words. Hahaha..

Jin Chwan, where they sell lots and lots of seafood, which is just right beside Bei Hai. You can choose your seafood here, then bring it to Bei Hai restaurant and ask them to cook for you.

This creature looks so ugly and funny. Its called Geoduck but then it looks like a dick. Hahaha.. Super ugly. Oh, and this ugly thing cost Rm138 per kg.

Very very big 'si ham'. Sigh, I purposely put my finger there to show how big the 'si ham' is but it fail miserably. It is actually as big as my palm size.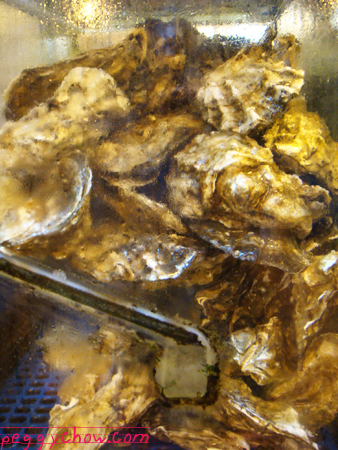 Oyster, my all time favourite but seldom have the chance to eat because its expensive..

Alaska King Crab which is really expensive. Rm228 for 1kg.

Our lobster that my mom order, which taste really good.

Mm mm… Mouth watering oyster, which somehow reminds me of Mr.Bean's movie where he looks so funny when eating his oyster. Haha..

Guess what this is.


Super jeng one I tell you. This is the raw lobster. Omg, super nice I feel like eating it now.

Baby abalone. : )

'Kai Lan' which taste a little like seaweed. What is Kai Lan in English?

And this is the remaining lobster cooked with porridge.
The total bill of the seafood is RM290.70 and for the cooking is Rm92.
So the total of everything is RM382.70 for four person.
Woah, almost Rm100 per person. If I have to pay myself I will vomit blood.
Thank you momma. : )