Pressieeeeeessss! :*D
Ahah, i totally ♥ presents. Who don't? :P

* First birthday present from mom, a gold key pendant. It's quite tiny but good enough. (: You can see it if you stick your eyeballs on the screen. mwahaha!

* Thankss Sean for giving me a hair cut for present. Not only that, he even dyed and highlighted my hair. Awww, thanks for the effort. (: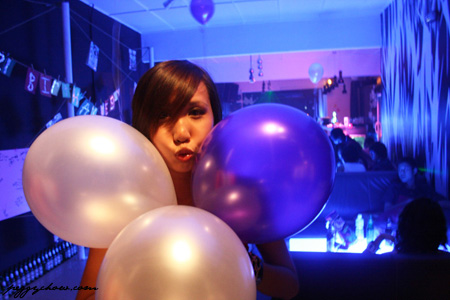 * Younger brother said I need not pay him the Rm400 that I owe, I can use that money and get whatever I want as my present. Elder brother wanted to get me Diana F full set but he's short of cash. (Gor, don't worry about it, it's okay.) I ♥ both my brothers. They treat me so good, I'm so touch. ((:

* And also special thanks to Joshua for taking photographs at my party for me. I ♥ this picture but it's a little too dark. His flash ran out of battery.

* It's a PINK DIANA F!!!!!! From my bff, Wong Ee Cheeng. Thankiuu so much really. Sorry for the blur picture, I'm too lazy to capture a new one.

* I'm a happy little girl. Quite a number of presents are from my wishlist. (: Ms.Dior Cherie, I've been wanting to have this perfume for so long and it's from Min Jer. It's so nice of him to get me this perfume. Gucci Envy Me perfume from Teik Wei and Pui Yee. I was quite shocked when I unwrap the present and saw what it is, quite unexpected but I like it none the less. ((:

* These are from my babes; the twins sister and Esther. Ahh, they know me well enough. *grins* Both Loreal eyeshadow from twins while Esther present me Majolica Majorca mascara, Majolica Majorca eyeshadow, and Kose mask. I so wanna try buy the Majolica mascara but it's so expensive, around Rm50 I think. Thankiuu so much babes, you girls bought me stuff that I wanna buy before this. ((:

* White Tree Face Shop mask by Shuea Yee and Vernon, Skin Food nail polish and some chocolates by Dexter and Jasper, and boxes of accessories by Esther De Silva, Eva, and Wilson. (:

* Bag from Jayson and Anna, yay a new bag . External harddisc from Cheras clan!! Though it's not in pink but it's so useful and I'm using it almost everyday. Haha..
Thanks guys. I'm gonna bejewel it someday. :*D
Ouh ouh, I get red packets too. :*D
Rm100 from my beloved uncle and another Rm100 from my mom's friend (which I don't know who).
And someone still haven't got me present yet. That slow Loo!!
I'm gonna shop for clothes and pass him the receipt. Mwahahahha!
I cannot already, I'm not craving for food now. I'm craving for shopping, wtf.
I think I cant quite wait for Thailand. September, oo-mm-gg!
Anyway, this year's birthday is one of the best birthday I ever had.
Banyak friends came, banyak wishes, banyak presents, and even red packets. :*D
Totally worth every single cent I spend on the party. (:
It will be even better if mom came.
and also if dad were here.