My Bangkok Day 1 post was a lot like a hotel review, sorry if it bores you.
But hey, I love to blog on hotels that I've stayed and hopefully it contributes a little if you're to make a choice on where to stay.
Poh Juan, Piao Ching, and the twins stayed at a hotel few minutes from Glow.
We met up and off we went for breakfast.
#1 Braised pork rice that I don't really fancy. Not that it doesn't taste nice, just that I don't fancy braised pork.
We walked quite a distance, searching for Four Face Buddha and halfway through we gave up walking.
Please make full use of the public transportation, there's BTS station everywhere.
#2 But I love what I saw along the way. Abandoned building with wall graffiti.
#3 New building.
#4 Piao Ching with a Longchamp and Fatty with his Wolfgang tee.
#5 My annoying travel partner.
#6 I had a frightful moment here! I wanted to thank Four Face Buddha so I bought some flowers and what not as my offerings. I was holding a loop of flowers when suddenly I felt a sharp pain on my hand, around my thumb area. I looked at my hand and I saw a green caterpillar sticking it's head out from the flower and looking at me! WTF! I almost do not know how to react, it was a fucking green caterpillar and it bit me and it hurts and there were some yellow stains on my hand, God knows what is that! I almost thought I'm gonna die or that my hand will turn red and itchy. Washed my hand with some holy water and thank God nothing happened. Not trying to be dramatic but it's a fucking green caterpillar! PFFT!
#7 Siam Discovery.
#8 Colourful tapes on a mini eased my frightful experience.
#9 So happy when I saw a few pop up container stores around Siam Discovery! Container homes, container stores, container workshops, container whatever, I just love it!
#10 Next mall that we went after Siam Discovery was Siam Paragon, which I named it as Bangkok's Pavilion. Branded, branded, and branded.
#11 There's a Lamborghini showroom in the mall, not only selling real Lamborghini but they sell a mini version of it too. I cant quite remember the price but I think they're selling it for 18000 Baht. Or more.

#12 The only thing that I wanted to do in Siam Paragon was to fix the sim card that I bought, everything else bores me. So Alvin, Fatty and I walked over to Bangkok Art and Culture Centre.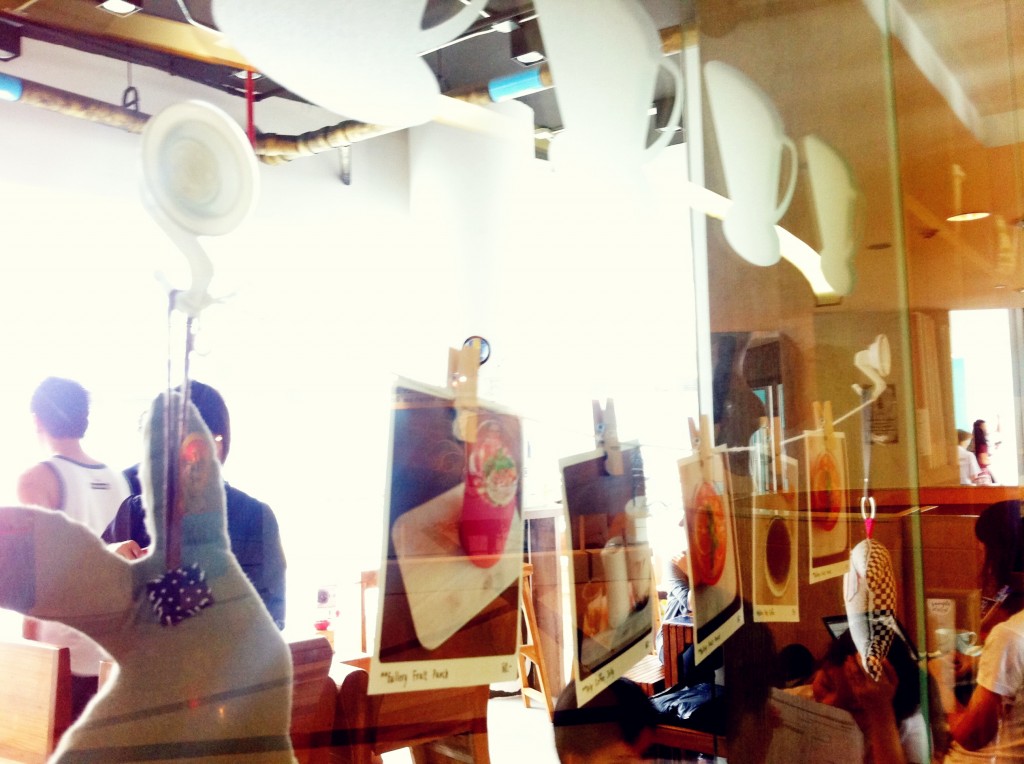 #13 I wished I could have some time to visit the Art and Culture Centre but we only have time for a drink at Gallery cafe.
#14 I love cafes! Love the smell of coffee beans and the look on enthusiastic baristas. :)
#15 Ahh! Cant express how much I love all these, arts and designs and I also cant express how much I hate the fact that I wasn't at all talented! Pfft!
#16 Teapots, teacups, and everything else that Gallery Cafe is selling.
#17 Cactus to cheer up the ambiance. :)
#18 Reminds me of Beauty and the Beast teacup.
#19 Alvin and his Thai milk tea which is really good! After two sips, I kind of crave for milk tea until today!
#20 Walked over to MBK mall and wait for the remaining to meet us before we start our shopping frenzy!
#21 There's nothing much inside MBK mall except for the Thai snacks that they sell, which me and Fatty bought quite a lot.
But there are a lot of shops and stalls opposite MBK mall. Cross the pedestrian bridge right infront of MBK mall and your shopping trip starts there. I enjoyed shopping at that area more than Platinum mall. Platinum mall never satisfies me, except for accessories. Nice clothing are always too expensive and the cheap ones are ugly.
It is more worthwhile to shop around MBK area and Chatuchak than to shop at Platinum Mall.
But then again, at the end of the day it's just preference. :)
I want to refrain myself from posting a long post so I'm gonna break it down.
(Because my mean bff has got something to say about long boring travel post that bores her, hahah.)
OF COURSE, MINE IS NEVER BORING TO HER! :P
Next up : Dinner at Chinatown.