Same question, asked repeatedly.
'Do what today?'
For your information, Fatty and I cant sit still at home and be a good kid for more than 2 days. Especially him.
And more often than not, we ran out of places to go or activities to do.
It's always the same ol' same ol'.
Drink-tea-chit-chat, movie, pool, karaoke and drinking (for the boys).
Not that I hate any of the above, just that there are times where I get bored of it.
There are some activities that I would like to do but moments like such just do not come by.
For example prawning, we don't even know where on earth can we go for prawning.
Anyone care to enlighten me and show me the way?
Ice skating.
It's far from my place and I'm always lazy.
It takes a lot of energy to get out of my bed, get dress, stay put in the car for about half an hour and finally move my ass around in the ice rink.
And most importantly, it's hard to convince Fatty to do the same.
What else do we have?
Kite flying. Waterfall. Mahjong! (Oh yes Mahjong, suits lazy people like me best)
Apart from the activities I've did or planned to do, the boys are very into Go-karts.
I don't quite understand why are they so fascinated. To me, I'm fascinated because I do not know how to drive a car and going for Go-kart is the only chance I have to experience driving.
But for these guys who know how to drive, I just don't quite understand how they can enjoy it so much.
Going for Go-kart everyday will not be a problem to them, even if it means turning into a roasted pig under the hot sun.

Why was my time table jam packed last week? this is one of the culprit.

I did not join the boys, I prefer staying under the shade than using up the money and suffer under the hot sun. Not a very good deal to me.
But I know the boys definitely enjoy it.
The Go-karts are available at two different capacities which is 80cc, and 100cc.
For a total of 20minutes, you will have to pay Rm40 for 80cc and Rm75 for 100cc.
Do check out Shah Alam Stadium, City Karting if you're up for something more exciting.
I don't fancy kart but I do fancy dart.
There's a new game in town which I called it the flying dart.
Darts. Yes, darts.
What are these darts doing in our town? To pull us out from our boredom I reckon.
It's a bar playing the latest hits filled with people like us, flying/ throwing darts.
It is located at Scott Garden and it's called iDarts Hex.

Apparently, playing darts is a very famous activity in Hong Kong. I'm pretty sure you came across some actor playing darts in a pub inside a TVB drama.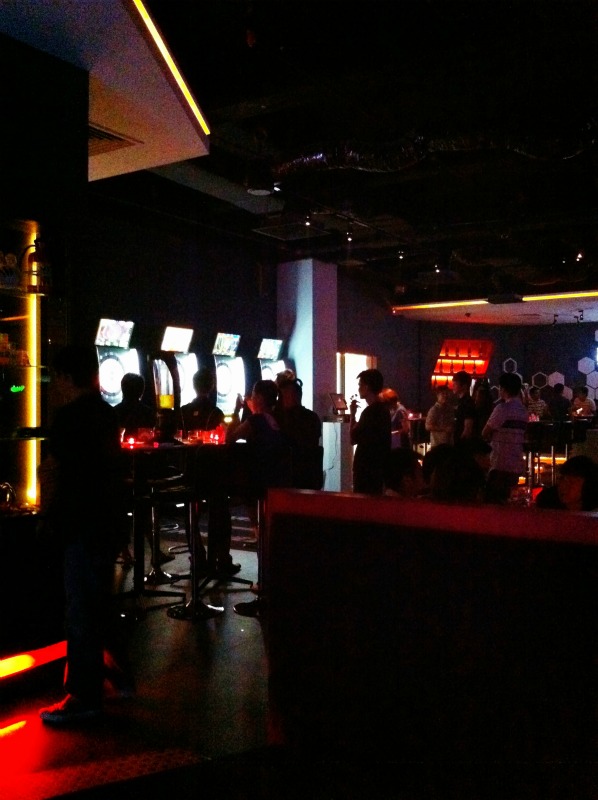 "I darts group is the proven trendy concept darts bar that originate from Hong Kong now exploded across Asia since 2010. " Hence iDarts Hex in Scott Garden.

It is a machine base kind of darts, unlike the traditional round dart board that you hanged onto a wall.
You see, above the machine dart board, there's a screen and from there you get to choose different kind of games and also to check out your score.

I really have no idea how these darts work if not because of iDarts Hex and I also do not know that there's actually a lot of different games to it.
Before playing, you need to exchange money with the cashier for a pack of 50cents coin.
For each game per person, it costs Rm2.
A waiter will then hand you a couple of darts, mostly 3 of it and you're good to go.
Pick a game from the screen you'll wish to play and have fun.
Each game has about 8 to 10 rounds and each round you get to throw the darts thrice.
And for each machine, maximum players can go up to four person.
It's fun plus it's a pretty good activity to bond with your friends or whoever you want to bond with.
I had a hard time throwing the darts at the beginning but slowly I get the hang of it.
Try it and you might get hooked. (;
City Karting.
Shah Alam Stadium,
Section 13, 40000 Shah Alam,
Selangor Darul Ehsan

Tel : 03 5512 5868
Mon to Fri: 10am – 7pm
Sat to Sun: 9am – 7pm
iDarts Hex
The Scott Garden,
Kompleks Rimbun Scott,
289, Jalan Kelang Lama,
58100 KL