Can't believe this year is the dragon year once again.
I've been eagerly waiting for the next dragon year to arrive after the age of 12 until I did a little calculation and realise I'll be 24.
Not so eager after all.
I always thought to myself, "ohh when dragon year arrives again I'll be a 24 adult, living like an adult".
Little did I know 'living like an adult' actually means clubbing till the dawn breaks, hahahah.
I pictured myself as an working adult, full time looking like an office lady but what I pictured was far off.
Now how could I even picture myself in such a way, I cant explain.
It's the last day of the rabbit year today and I welcome dragon year with my open arms.
I had my reunion lunch this afternoon at Oriental Viva with my siblings, a few of my relatives and my Ben joined in too.
Oriental Viva is under The Oriental Group of Restaurant which is the same group as Noble House and how glad my mom made the right choice, the food is indeed good.
Last year, we had our reunion lunch at home and the boyfriend still complains till this very day on how I'm such a careless girlfriend because I don't bother getting him any dishes when he's still shy.
Not too use to it at that point of time haha.
Did my first Lou Sang at Mei Keng Fatt the other day with a couple of friends and gosh, that dinner is one helluva dinner.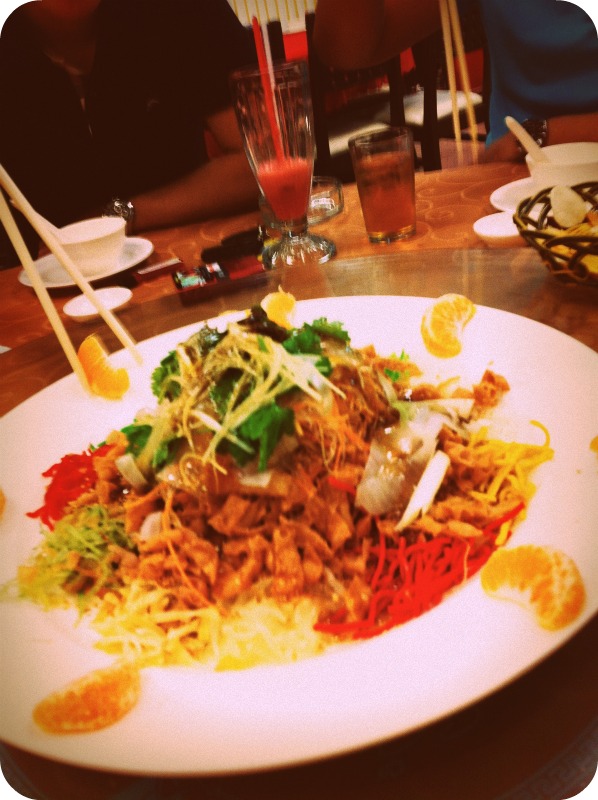 * Friends reunion dinner I called it, just to syok sendiri. Picture turns out blur because I'm in such a hurry to capture it one second before they start their 'yuet lou yuet sang'.

* Every year I do this full with hope, hoping that what I wish for will come true, lol.

* Just half of our dinner that night. It's a feast for the 7 of us.

* Of course, you go to Mei Keng Fatt for their crabs. We ordered two different dish of Sri Lanka crab and for one crab it cost about Rm70++. The above is one of the two crabs.

* The Sri Lanka crab is really big, the claw itself is almost as big as Daniel's palm.
I enjoyed the dinner and came home with a a bulging tummy.
No. Not gonna wish you guys Happy Chinese new year yet, maybe tomorrow.
But hope you guys had an enjoyable reunion dinner with your loved ones. (: