So if you haven't already know, I ditched my Samsung smartphone half a year ago for my brother's 3gs.
Although I did not own an Iphone before this but I know how to navigate it really well because I've been playing with Fatty's Iphone since years ago.
You can really imagine how happy I was when I finally get to own an Iphone but truth be told although I hate my Samsung, I cant deny that I love how customizable it was.
I love to customize things that belong to me because I love to be different. /aherm
I also love how it gave me a very 'me feeling' cause I get to customize it to the way I exactly wanted.
For instance my blog skin, I will never leave it as it is. I will play around with the html and whatsoever, changing colours and whatever that irritates my eyes.
Which is also why I don't change my blog skin very often, too much hassle.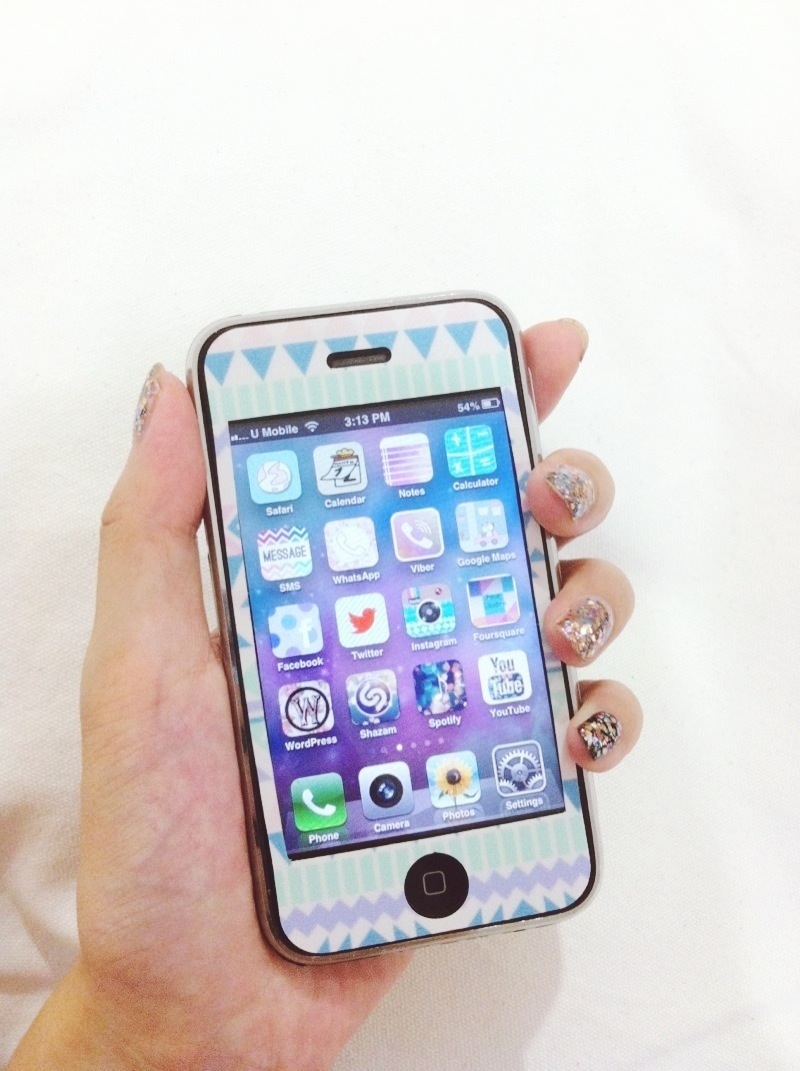 #1 How my phone looks like right now. (Don't know why my hand so meaty!)
I really couldn't be bothered when I first got hold of my Iphone, to play around with Cydia and changing the way my Iphone looks.
I still wouldn't be bothered if shit did not happen to my phone.
If it weren't for the apps that I wanted to download which require IOS 5, I will not upgrade my phone because I hate changes. And I am lazy, obviously.
As what I expected (though I pray that it will not) my Iphone crashed and kind of died for a little while.
My laptop was at it's worst too and somehow failed to back up everything from my phone!
I sat for hours googling and figuring how to fix my dead Iphone and once I had it fixed, it went to default!
DEFAULT OMG!
Thank God I took pictures with my boyfriend's and bff's phone and they could resent it to me or else I will be mad piss!
Since my phone was in a default mode, I tried changing whatever I could to make it look pretty and I stumble upon this app that can change our app's icon without jailbreaking our phone.

#2 Enough of my grandmother story, here is a better view of my home screen. Look at my Google Maps!! :D

#3 My second page which mainly stores my photo editing apps.
I love how creative people turn their photographs into an amazing piece of art just by editing through Iphone apps.
I am now learning. :)

#4 The first thing you have to do is to download this app called 'COCOPPA' in your app store which is absolutely free.
After downloading, register yourself an account and you're good to go.

#5 There are ample of icons for you to choose from and if you're a perfectionist, this will take up a lot of your time.

#6 Click on app icons that you are fond of and 'like' the icon so that it will be store in your profile for easy searching. I do think this is a crucial step because you might not stumble upon the app you browse earlier on.
If you decided that you want to use said icon, click on 'set up link'.
Here's an example on how to set up Whatsapp.

#7 Once you click on 'set up link' you will have to click on 'app search' to search for the app you intend to change icon. In my case, I search for Whatsapp.

#8 You can scroll for popular apps and for the not so popular apps, you can search for it at the search bar.

#9 Once I click on Whatsapp on app search, this is the image that appeared on my screen. Set your icon name, add gloss if you want and press 'OK'.

#10 Click 'yes'.

#11 A Safari page will come up and you will have to press the arrow button at the bottom.

#12 An image will come up, scroll to your right or second page and click 'Add to home screen'.

#13 Set the name for your icon, click 'Add' and tadaa!
Sounds confusing at first but once you get the hang of it, it's pretty easy.
There are a few things that you have to take note.
* For standard apps in our Iphone which we are not allow to be delete, it wont work. Which means for those apps you will have to use the ugly version.
* The real apps which we downloaded from AppStore are not allow to be deleted because the pretty version of the apps we created through Cocoppa is just a shortcut app.
* There are apps that you might not be able to find in App Search and if you want you can download apps that are available in their app search for a shortcut icon.
You can create shortcut for speed dial, email to a certain person, and a website link.
Which means you can actually change how Safari app looks, the website link I put was www.google.com.
The other three standard apps which you could change is music, google maps, and messages.
Steps are the same up till the point where you click 'Set up link'.

#14 Instead of 'App Search' click on 'URL'.
For music app = Music:
For messages = SMS:
For google maps = Maps:

#15 Type in the exact words and click done.

#16 And the rest will be the same from here (I was too lazy to go click on another icon so I just use the Whatsapp icon to show you).
For all my original apps, I store it in the last page and I don't really get to see it.
Verdict: The app is not the most user friendly app as it crashed a few times while I was browsing for icons.
It also kinda lag but it could be my phone, this I am unsure of. Searching for icons through tags and categories may not give you the best result because the creators did not tag their icons accordingly sometimes which is why the 'like icon' step is important.
App search is definitely lousy and there are two apps which they insisted that I did not download from AppStore but I did. Cant do much about it when these things come up.
When you open the shortcut link, it will take a second for it to redirect back to the original app.
So unless if you can wait for that one second every time you open an app, do not beautify your phone through Cocoppa. They do have wallpapers that match with their icons too but I don't dig those.
Hope you have fun personalizing/customizing your Iphone without jailbreaking. :)
P/S: Melaka post will be up soon, I have to reedit all my pictures that were wiped out from my phone.