Was suppose to post this up way back but I'm super lazy, haha.
Cheah's 21st birthday celebration at Redbox. We had a blast that day! :D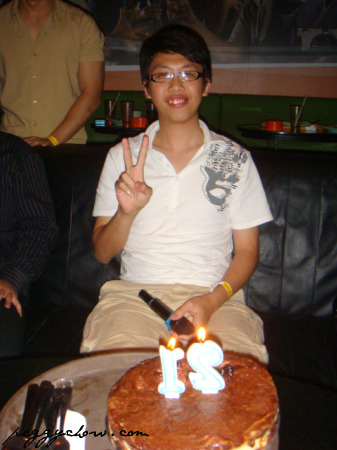 * Birthday boy giving us a peace sign.

* Whoops, clapping.

* Cheah and Yee Wah, holding the cake she baked for him. Aww, so sweet. (I use to bake cake for bf too, but my cake taste like shit whereas Yee Wah's cake taste like heaven.)

* The guys having fun singing. (:

* How can you not see her in my pictures, lol.

* And did I tell you one is never enough? That's an orange she's eating by the way.

* And lastly, the guys trying to take off birthday boy's shirt because they were singing 'Thuo Tiao' (Take Off, wtf) by Alex To.
***
Jones postpone his birthday celebration to the following month because he needs to concentrate on his studies. This guy here is studying so hard for his law papers. As a good friend, how can I not surprise him a little on his 21st birthday. (:

* Yes, we went all the way to Damansara Uptown just to get him cute cupcakes. (:

* Are you touched? We did shock him a little because he didn't know we were already outside of his house.

* Don't these candles look cute? But too bad, we didn't get to lit it, and look at that joker there. Hahahahahaha..

* I hope you like the little surprise. (:
That's all for now, I'm in a hurry to catch the football match that is not to be miss. The devils versus the gunners and of course, devils must win. Ciaoz.