UCSI Unifest, it was loads of fun.
A lot of nice bands were performing on that day, all of us are high. Haha.. :'D
I look kind of terrible in those pictures, sorry. : (

* People queuing up for the Sony goodie bag. I got mine too. :'D And that's Bell there at the corner.

* Ee Cheeng and me. You guys haven seen her at my blog for quite some time right? Hehe..

* Funny face Esther and me.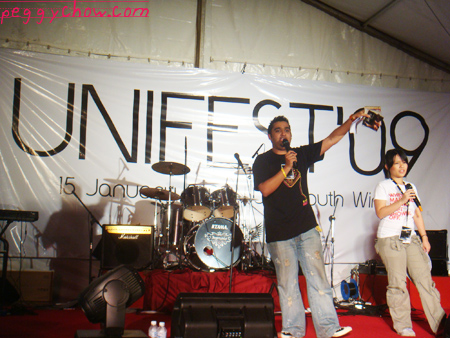 * The MCs, Prakash and our student council's president.

* Prakash talking to the Koreans. They are here for student exchange and UCSI will be having Korean night on this Wednesday. I wish to go. : )
There are quite a number of bands but I couldn't get to remember all their names, except for my favourite one. *blush* wtf.. hahaha..
*Drum Roll*
They are 'Scene at The Movies' yo..
Ee Cheeng told me that there's handsome guys behind those booth, so I went and check it out, haha. I saw them wearing the tag which says player and I asked Joshua about it. He told me that they are performers, omg. :'D
When I saw them on stage, I went crazy. Hahaha..
You know like those teenage girls where they get to see their favourite artist performing, I'm exactly like that. Hahaha..
Super happy, super fun.

* They are Malaysian but they form their group at Melbourne. They not only look good, their music are pretty good too.

* Handsome handsome. The drummer is super cool, he looked so enjoy when he is playing the drum.

* These are from our Music Faculty. They play extremely nice music that night. : )

* And guess who's this. Juwita Suwito, I didn't know that she will perform on that day. Shock me a little bit but she is totally an awesome singer. She can seriously sing nice songs and her voice is really amazing.

* This is Liang. Its great to watch him perform.
Ok, back to these handsome guys, lol. I pass by Prakash and I saw them talking to him. Prakash saw me and asked if I wanted to take pictures with them. : ))))))))))
Of course I do. Freaking happy, can.
I love Prakash, hahaha.

* These guys are really friendly people.

* Tell me how can I not be happy. :'D Although I look like an idiot here but I still feel damn happy.
They asked me to add their Facebook and tag them. :'D
They even write on my wall, haha. I sound so much like those teenage girl, wtf.
Seriously, that night was super fun. The concert and everything is awesome. :'D
I hope there will be more concerts like this at UCSI. : )
For more pictures, you can visit Joshua's blog as he is the photographer for that night.