Greetings!
I am back from Bali after 10 days and I brought back sunburns on my shoulders.
Never had any sunburn in my life before!
I bought the air tickets during Chinese New Year when Airasia was having zero fare sales and my two way air tickets to Bali costed me only Rm120.
That was by far the cheapest air tickets that I've bought.
I only paid for my air tickets and the remaining expenses was paid by my mom. :D
The last time she sponsored us a holiday was 12 years ago to Europe, this time it is a rare case.
Unlike the usual me who'll do tons of research before going on a holiday, I researched nothing this time.
I did not book the hotels, plan for the itinerary or even research for restaurants. I left it all to my brother.
I wasn't as enthusiastic as going to a trip with Fatty because the differences between me, my mom and my brother is too significant to ignore.
I just kind of follow.
The three of us reached Denpasar airport at 11pm+ and seeing that we arrived late at night, my brother picked a hotel that is not too far away from the airport which is Legian Tunes Hotel.
I've had quite a good experience with Penang's Tunes Hotel but it wasn't the same with Legian Tunes Hotel.

#1 Me in my dad's polo tee. <3

#2 The room is really really small as what I have expected, so it wasn't much of a problem. What you see here is already 90% of the room space.

#3 Small isn't a problem but not being kept clean is. Penang's Tunes Hotel was so clean and bright, and the bed was really comfortable too.
I was rather shocked by Legian Tunes Hotel room condition but what can I say, it only cost IDR231,500 which is RM75+.

#4 Small walkway to Legian Tunes Hotel.
We checked out the next morning to Matahari Guest House at Kuta for two days and a day costs about RM90+.
I'd say Matahari Guest House is a better choice than Tunes as the room given was a lot more spacious, with cupboard, television, and a refrigerator.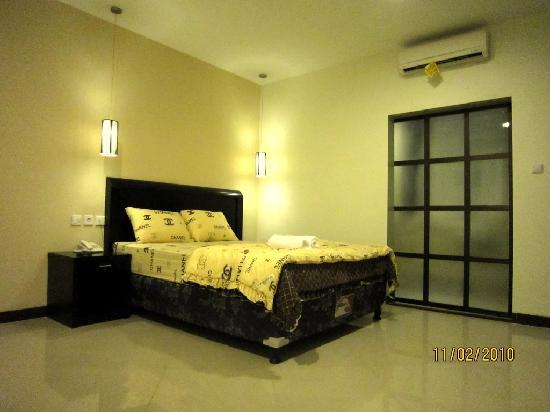 #5 A picture of Matahari Guest House room I took from Trip Advisor because I cant be bothered to snap a picture of the room.

#6 And that's me in the room.
We went for lunch after dropping off our luggage and since my brother did not do much research on food, I looked it up on Foursquare.

#7 Nasi Pedas Ibu Andika came up on foursquare with a pretty good rating, sort of like nasi campur.

#8 Nasi Pedas Ibu Andika and it was bloody pedas! It was scorching hot, the restaurant was stuffy, and my lunch was extremely spicy. Not recommended if you're a person who cant take in spicy food.
My brother and I walked to Kuta Beach while my mom took a nap in our room.
Kuta is one of the most popular beaches as it is accessible and more commercialized with lots of shops around.

#9 Entrance to Kuta Beach.

#10 Not a very impressive beach in my opinion, there's quite a lot of rubbishes around.

#11

#12

#13 Surfboards for rent at Kuta Beach.

#14 Yours truly under the hot sun.
When you're at Bali, you definitely need a driver to fetch you around as the island is really big or you can rent yourself a bike/car.
We booked a local driver and his name is Made Supmarjaya. He charged IDR250,000 (RM80/5 hours) for half a day and IDR400,000 (RM130/10 hours) for a full day service.
I highly recommend you look for him as your driver because he keeps smiling all the way.
He drives safe, he's friendly, he doesn't smoke, and he kind of doesn't mind if he has to fetch an hour extra (without asking for extra pay). /thumbs up
We booked him for half day on the second day and he fetched us to Suluban beach, few kms from Uluwatu.

#15 You need to walk down a narrow cave like stairs to reach Suluban beach.

#16

#17 Really beautiful sarongs for sale at the beach.

#18

#19 Cliffs around the beach.

#20 It was really crowded when we were there, some were drinking Bintang beer, some were reading a book, while some walked around by the beach and some kids had a lot of fun playing with the sand.

#21 Sun rays. :)

#22 Me and my sponsor, haha.

#23 The Chows.

#24 Ending my post with the lego man I brought over, to accompany me. Hah!
NASI PEDAS IBU ANDIKA
Jl. Raya Kuta Gg. Kubu No. 120 C (Depan Supernova)
Kuta, Bali

LEGIAN TUNES HOTEL
Jalan Arjuna (Double Six)
(Off Jalan Pantai Legian)
Legian, Bali, Indonesia

MATAHARI GUEST HOUSE
Jl. Tegal Wangi No 14,
Kuta, Bali, Indonesia 80361