I don't know if there'll be any Malaysians who will ever dislike Thai food cause I am very much in love with it.
So when Fatty told me about BBQ Thai restaurant which he tried with his family was rather good, I was eager to try it too.
What is better than a Thai restaurant is a Thai restaurant with a unique seating concept.
That's like a win win for me. :D
BBQ Thai Street Food is located along Old Klang Road on your left side if you're from Mid Valley, right after Coco Steamboat.

#1 Spot this purple cube instead of a big ass signage because they do not have one.

#2 One way it seems.

#3 There are two different sitting areas, the outdoor or air-condition indoor huts made from wood planks.

#4 There were lots of different small wooden huts, some can accomodate up to a few different small tables while some have more privacy and targeted for larger groups for instance, 12 people in a hut. However, for the privacy huts you have to spend Rm300 and above.

#5 Wooden huts are of different themes and colours.

#6 Outdoor area.

#7 Tuk-tuk for decoration purpose and to represent Thailand.

#8 Not so sure about this cute car though.

#9 Love the way they arranged their basins.

#10 We at first were seated at the yellow hut but we shifted to outdoor instead cause I don't like the colour yellow.

#11 Woods everywhere.

#12 Definitely a very good way to recycle! I always love how people find ways and ideas to reuse what seems to be useless into something so desginer-ish.

#13 Pandan water.

#14 BBQ cockles and thai steam fish (RM38).

#15 Sauces for steam fish and tom yam (RM20). Steam fish was decent but I do not recommend the tom yam. It was too spicy and the bowl of tom yam tasted more like a bowl of tom yam made from just tom yam paste.

#16 Pork neck (RM28)!

#17 Sticky mango rice (RM10) and I-don't-know-what's-that-cause-I-wasn't-interested.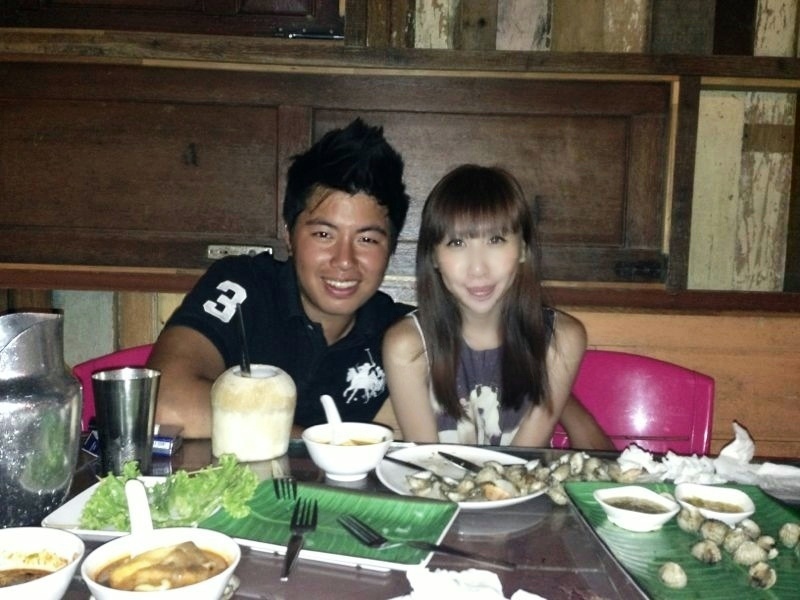 #18 Sapu-ed everything on the table and I was the last one who was still eating when everyone stopped.

#19 Me bestfriends.
Overall, food was decent except for the tom yam we ordered but price was a little steep considering the area and everything else.
The bill came up to about Rm170+ for the four of us.
Not the best Thai food I have ever tried but it's a great place to dine once in awhile for a unique seating and great for big groups too.
BBQ Thai – Thai Street Food
17 Lorong Jugra, Off Batu 3 1/3
Jalan Klang Lama,
58000 Kuala Lumpur
Tel: 03-79819888
Business hours: 5.00pm – 1.00am