Have dinner with boyfriend at Cafe Cafe on my birthday night. Everything was nice. I really enjoy myself and I hope he enjoy too. Some pictures of the food.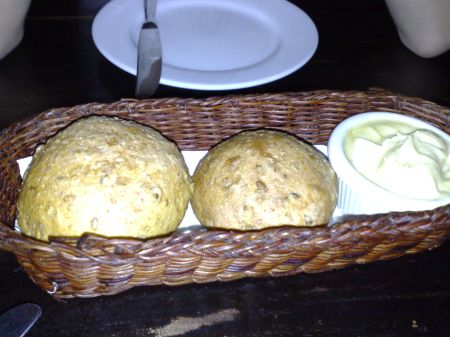 Very very hard bread.. (my teeth almost fall out)

Escargot 1/2 Dozen

Soup of the Day

Lamb Shank

Hot Chocolate Cake

Cheese Cake
——————————————————————————————
Presents


Photo Frame from Fuh Haur, Candle & Lamp from Lin Ho, Don't-Know-What-Stick from Dexter, and OX toy from Lee Kuan.

J Co Doughnut from Yee Wah.

The Face Shop White Tree Vita Spot Corrector from Loo and his gang. Thanks for this prezzie as I've got some brown spots on my face. Haha..

Ikea Ice Cube look alike light from Ee Cheeng. Thanks for the present as I really wanted a light. :)

How the light looks like when its turn on.

The Levis Watch from boyfriend. :)

And lastly I bought myself Z610, the phone I wanted. But I want the Sony camera more. I'm gonna get it very very soon. :)

P.S: Thanks everyone for the wishes and presents. Thanks a lot.