Broga Hill, I remembered my last experience there wasn't quite a pleasant one.
No, there's nothing wrong with Broga.
Just that I'm not quite interested in hiking itself.
People head over to Broga Hill and hike up to the peak for an awesome sunrise view.
Even without the sunrise, hiking up to the peak is still worth it.
The first time I went hiking at Broga is on the first day of 2011 in hope that I'll get to reach the top and catch the sunrise.
But I did not make it, so were my friends.
I don't normally hike, or even do any exercise at all for that matter.
Which makes this journey even harder for me, especially the sloppiness of the hill.
On one Saturday, I went to Broga for the second time but not for hiking this time.
Thank God.
We're all there to escape our bustling city, to have some quiet time all by ourselves.
Poh Juan's father own this place called Broga Eco Farm Resort and that's how we decided to spend our Saturday.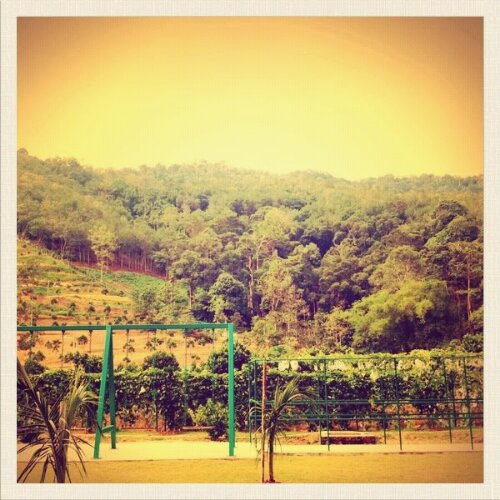 * The view from where the resort is.

* Walkway filled with fruits.

* This is the resort, just three rooms for now.

* And this is the room we all slept in. This room is so huge, fitting in the 9 of us.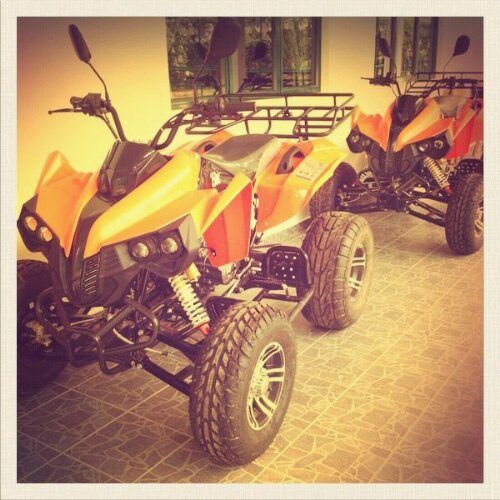 * Two of Poh Juan's manual ATV (all-terrain vehicle).

* Pretty cool ay!? Poh Juan and Victor ready to roll while I enjoyed my Mahjong session in the living room.

* Saw lots of stray dogs walking around before I spot this cute puppy.

* So cute I was playing with it all day and the poor puppy slept on our shoes outside the door when we were all soundly asleep in the room.

* Me trying out the swing.

* Yan who prepared the barbecue.

* And that's my fatty, forced to take a picture with me.

* Our char siew. Yes, we barbecued char siew this time.

* Guy's job, nuff said.

* Lambs from previous barbecue session at Poh Juan's house tasted much better. This was pre-marinated from supermarket.

* Chicken wings. Again, the chicken wing that Poh Juan marinated at Malacca tasted better too. In fact, what he marinated was pretty damn good, malay style it is.

* Girls taking care of the food while the guys getting the karaoke set fix. As for me, doing something real important which is snapping pictures. Hey, don't look at me like that!!

* My bff's bf enjoying his hot dog bun.

* Fatty likes the cute puppy too! (:

* Foon was back that day from Hong Kong and I was happy to see her.

* Taking a ride with ATV in between meals.
We ate, we sang, we drank, we gambled, and we chit-chat.
Not everyone appeared in my pictures, I was too lazy after my meal.
It was a simple so called getaway with a bunch of my friends. (:
Broga Eco Farm Resort is not for rent yet but soon it will be.
I'll probably put more information by then.