Where: Cocotte @ Wanderlust Hotel
What: French Cusinie
It was more than ten years ago when I last step foot on Singapore.
Although it was more than a decade but my memories are still vivid.
There was a period where I really had lots of fun and laughters at Singapore with my family and there was also a period whereby flying over to Singapore broke my heart.
When I was 11 I flew over to Singapore with my brother, just the two of us to check out on our dad who was then receiving medical help for his sickness.
Maybe this was the reason as to why flying to Singapore no longer excites me. Singapore suddenly sounds so ……… unhappy after all those things I went through there.
And another reason is of course, THE CURRENCY.
I'd rather fly to Thailand but this time I'm glad that I finally get to visit Singapore all over again despite the currency that makes me cringe.
I was at Singapore for four days and boy I must say, that was definitely a very jam-packed-tiring-trip.

#1 We were suppose to leave at 7.30 in the morning but everything got delayed to two hours late and it took us about 3 and a half hours to reach Singapore. We didn't really want to speed knowing that there's a lot of speed trap camera along the highway. Better safe than sorry.

#2 Drive till sot sot dei jor.
The first thing we did upon reaching Singapore was to go for lunch at Cocotte which was located inside Wanderlust Hotel.

#3 There's this very annoying fact about my boyfriend is that he always tends to accidentally appear in my pictures. His head, his arm, his feet, his finger, or even his hair. Try to spot him in my Singapore pictures and see who got the most 'Fatty'.
Prize: A full length picture of my Fatty.

#4 A very comfortable setting with warm and rustic interior.

#5

#6

#7 Colourful kettles on top of the wine fridge.

#8 The window that we sat by let the amount of right sunlight in and I also fancy their table setting.

#9 My partner :)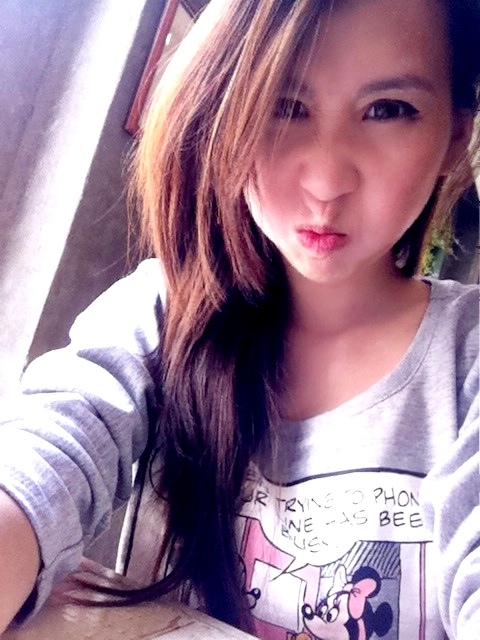 #10 Maybe I was trying to look like a mouse seeing that I was wearing a Mickey Mouse pullover.
Fatty tried to read the comic strip and it said 'Been trying to phone, your line has been busy'.
What kind of a lame comic is that?
We ordered a lunch set for $35 which comes with a soup, main, dessert, and coffee or tea in addition to another ala-carte to share.

#11 Mushroom soup with truffle oil which surprisingly tasted so so good, it might just have been the best mushroom I've tasted by far. It could be the truffle oil but whatever it was, this is one damn good mushroom soup.

#12 Gratin of Roasted Butternut Squash, Sage, and Gnocchi Parisenne – $20. This is a very cheesy and full filling ala-carte and as you can tell by the size (HAHA), Fatty loves this dish. It was a little too cheesy for me but the butternut was tasted quite good.

#13 Roasted Sea Bream and Persillade. I much preferred Roasted Sea Bream than Roasted Butternut Squash on that day. The fish was fresh, the simple taste was just nice with a tinge of lemon.

#14 Fatty trying to create an-obviously-fail-coffee-art.

#15 Dessert served was Chocolate Tart which I surprisingly quite like. I am never a chocolate person and so is Fatty but we almost finished off the whole tart if it weren't for our-full-to-the-brim-tummy. Very chocolaty with very little sweetness in it, just the way I like it.
Nothing innovative about their french menu like Nathalie's but nonetheless it was a good meal.
I have to repeat, I especially like their mushroom soup!
Inclusive of tax, our first lunch came up to about $65+. I don't even want to convert and find out how much(Ringgits) I've spent on that lunch alone.
Go for their set lunch which I think is really worth it but do take note Cocotte's set lunch is only available on weekday from 12pm to 2.30 pm.
COCOTTE
Address:
No. 2 Dickson Road
Singapore 209494
+65 6298 1188
info@restaurantcocotte.com

OPENING HOURS:

Lunch:
Mondays to Saturdays
1200hrs – 1430hrs
(Last order 1400hrs)

Dinner:
Mondays to Thursdays
1830hrs – 2230hrs
(Last order 2200hrs)

Fridays to Saturdays
1830hrs – 2300hrs
(Last order 2230hrs)
Closed on Sundays

Brunch:
Saturdays to Sundays
1200hrs – 1500hrs
(Last order 1430hrs)

Bar:
Mondays to Thursdays
1200hrs – 2300hrs
Fridays to Saturdays
1200hrs – 0000hrs
Sundays
1200hrs – 1500hrs