Finally, blogging with some real pictures.
Seems as though the pictures uploaded at Facebook are not as nice. Colours weren't as sharp.
Anyway, the trip is really fun but it's a little different.
Normally a few days before I go to trip, I'll get real excited and keep thinking about it every night before I sleep till the day comes.
But this Redang trip is so random, I was pretty much stoning all the while in the car when we're heading to Terengganu.
And I saw two wild boars in the middle of the road, in the middle of the night. I was so excited wtf.
I was like, 'OMG! san chu ah!! lei tei!! san chu!! liong jek ah!!' wtf -__-"
Don't know why I see pig so excited, some more is black colour wild boar.
Then we we almost reach Terengganu, we saw UCSI. Yes, there's an UCSI at Terengganu and then we start to, 'Wah!! UCSI ah!!! Wah, UCSI, lei tei! Wah!!'
Wtf, like never see UCSI before. -_-" but this is UCSI at Terengganu, really never see before.
So we decided to get off the car and take pictures with the Terengganu UCSI. So lame.

* Seven in the morning, all of us just got up from our sweet dreams.

* At jetty, super boring.

* Both of them went diving, the remaining three of us went to bed. LOL!

* After sleeping, we came out to eat. Pig macam.
Then of course, it's time to snap snap and snap.


* Love the jumpshot.

* Love the blue blue sky. This picture is so nice.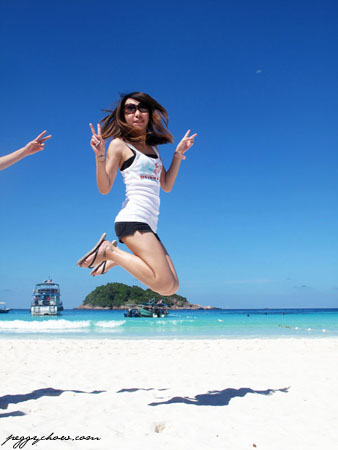 * Kena kacau. pfft

* Don't know what kind of jump is this. haha.

* Went back to change, ready to get wet. :'D

* Why am I in the middle?

* Hot and thirsty, I grab Popsicle while the others get themselves cold drinks. And please look at Weng Kee.

* And look at Weng Kee again. Model macam. HAHA!

* People is asking why are we swimming in the swimming pool instead of swimming in the sea. Well, there's a swimming nearby, so why not we jump in first. Hah! And I love this picture. (:

* Kurang satu. Wah Yan didn't want to join in.

* Such a nice place, of course must camwhore. Bwaha!

* Goe kelefeh behind.

* Wah Yan with her ice lemon tea.

* :3
After dinner we went to More More Tea. If you go Redang, you go More More Tea.

* And take silly pictures like this.

* And lovey-dovey pictures like this.

* And this.

* Actually I wanted to put down my leg, but I'm damn afraid of the height. Can you see me? I'm upstairs.

* This picture is cute.

* The girls.

* And I end my post with this guy.
Will continue soon…