Last weekend was hectic for me. First it was FMFA 2012, then it was the 4th Putrajaya International Hot Air Balloon Fiesta 2012.
I've been wanting to go to this Hot Air Balloon Fiesta at Putrajaya for the longest time.
I missed out this event last year and I remembered myself telling Fatty that if we ever have the chance, he must bring me to Putrajaya International Hot Air Balloon Fiesta in the future.
Not a chance that is easy to come by because he shouldn't be by my side this moment.
But he is. :)
So I decided to bring along my little cousins but my uncle was so afraid that I might lost his kids, only one of them followed. :(
This is so unfair to the younger brother! :(
I'll compensate and bring him out the next time. I don't like being unfair to little kids!
Picked this boy up and off for lunch we went before heading to Putrajaya for Hot Air Balloon Fiesta 2012.
Meet this 6 years old boy named Hou Yin, my cousin that I love a lot. If you hear him talk, I bet you'll love him too. :)
He actually kept mentioning in the car that we're going to Jusco when I kept saying to him that we're going for hot air balloons. He thought it's gonna be boring, he'd rather want Jusco. Haha.
The boys that accompanied me that day.
I asked my cousin, 'Is Ben gor gor fat?'.
And he answered, 'Fat, who say not fat? Fat like a ball'.
Hahahahahha, this 6 years old cracked me up.
His favourite, and also Fatty's favourite when he was young which is Ultraman. They sometimes watched Ultraman on Youtube together in my house, haha.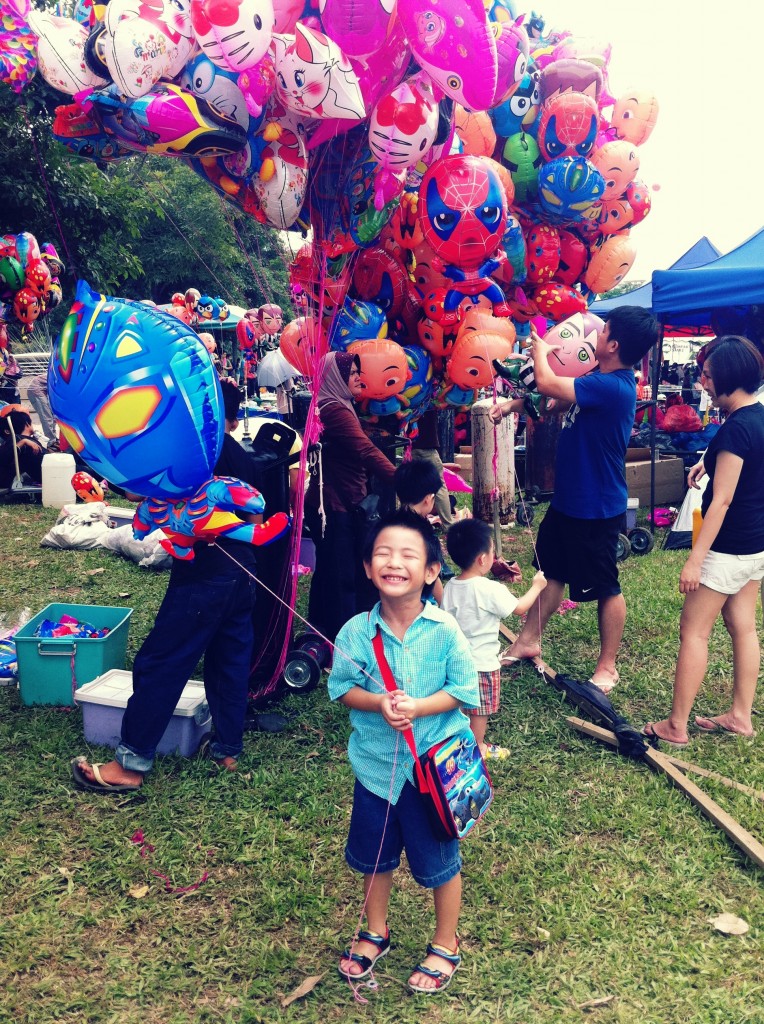 Look how happy he was on that day! :D
We walked around and stopped by at Mollydooker's for coffee and homemade ice-cream.
It was real hot that day.
He always treat my cousin so well and he's really good with kids! What a keeper, hahahahah!
Just the three of us spending our Sunday together. :)
He was enjoying his Horlick ice-cream until he saw …
… this clown from afar and he thought that the clown is some satan or devil or something and the faces that he showed me was priceless, hahaha. He was so afraid that he decided to stop eating his ice-cream and I had to tell him that it's okay.
Kids are so naive and cute! :)
We continue walking around and saw a number of activites that we cant be bothered because of the scorching hot sun.
Water orb. Of course I'm not gonna put myself into that ball, moving around weirdly while everyone else is watching. Not to mention, it was tied with a string and you cant even go far.
Paid Rm5 for the boy to enjoy but he got bored after 3 rounds. That slide is not even slippery at all. :(
KMX kart that cost Rm10 for 10 minutes and the comment that Fatty gave me was that he felt like he just went for gym.
It was pretty tiring, especially when you have a 6 years old boy on your lap.
My cousin's legs flew up and down when Fatty cycled and I cant help but laughed because this pair above is the only pair that is so out of control!
The person in charge who thought that I was my cousin's mother told me to asked my 'son' to change his position.
Young parents, not.
Changed position but my boys were still out of control. Hahahah!
After the KMX ride, we were all tired including myself.
I didn't know that the hot air balloons will only be up at 7.30am and 5.30pm or else we wouldn't be there so early on that day.
We were too tired to wait for the hot air balloons so home we went.
I'm not entirely upset for not getting to watch those hot air balloons because I still had fun that day but of course I wish to catch a glimpse.
I have not in my entire life came across a hot air balloon before but that's okay, Fatty said we'll always have the chance in the future.
Maybe even taking a ride in one. :)
A funny kid that is so truthful to me, a person I love and a place full with activities. My perfect Sunday. :)