Day 4 is all about sitting in a car for 3 hours and staying in.
We head to Lovina from Kuta, just to catch a few glimpse of dolphins jumping up naturally from the sea.
Lovina manages to exude a sedate charm even as the number of hotels and other tourist places grows. Almost merging into Singaraja to the west, the town is really a string of coastal villages – Pemaron, Tukad Mungga, Anturan, Kalibukbuk, Kaliasem and Temukus – that have taken on this collective name.

Lovina is a convenient base for trips around the north coast or the central mountains. The beaches are made up of washed-out grey and black volcanic sand, and they are mostly clean near the hotel areas, but generally unspectacular. Reefs protect the shore, so the water is usually calm and clear.
I've heard of a place like such from my bff when she told me she drove a few hours up the hill just to watch dolphins.
I thought to myself, 'crazy meh, so many hours just to see dolphins' but I was wrong.
It was extremely worth it.

#1 At Lovina, we stayed in Padmasari Resort which cost the most among five hotels.

#2 Padmasari's lobby.

#3 Nest like ornaments.

#4 Where we had our dinner and breakfast, facing the sea.

#5 The best part is of course their infinity pool and in this pool I found out that I can actually swim if I put my goggles on. Heh.

#6 Walkway into our room.

#7 We paid about Rm200+ for a night.

#8 The most spacious and cleanliest room among all the hotels we stayed in Bali.

#9

#10 Stayed in to chillax and have a swim. (:

#11 Mom came out with a swimming cap and my brother and I cant help but laugh at her. Olympian wanna be.

#12

#13 Meows.

#14 Reflection from the pool when the sun was setting. Just beautiful.
We had dinner in the hotel and rest early seeing that our boat will pick us up at 6 in the morning.
There isn't a jetty right where we get on the boat, so we have to walk and dip our feet into the sea before getting into the boat.
So be prepared to get a little wet if you'd like to see some dolphins.

#15 There's isn't a proper seat on the boat and I tried not to move around so much.

#16 Look at that wood plank my mom was sitting on.

#17 If you look closely, these boats looks like spiders because they have 'legs' to balance the boat.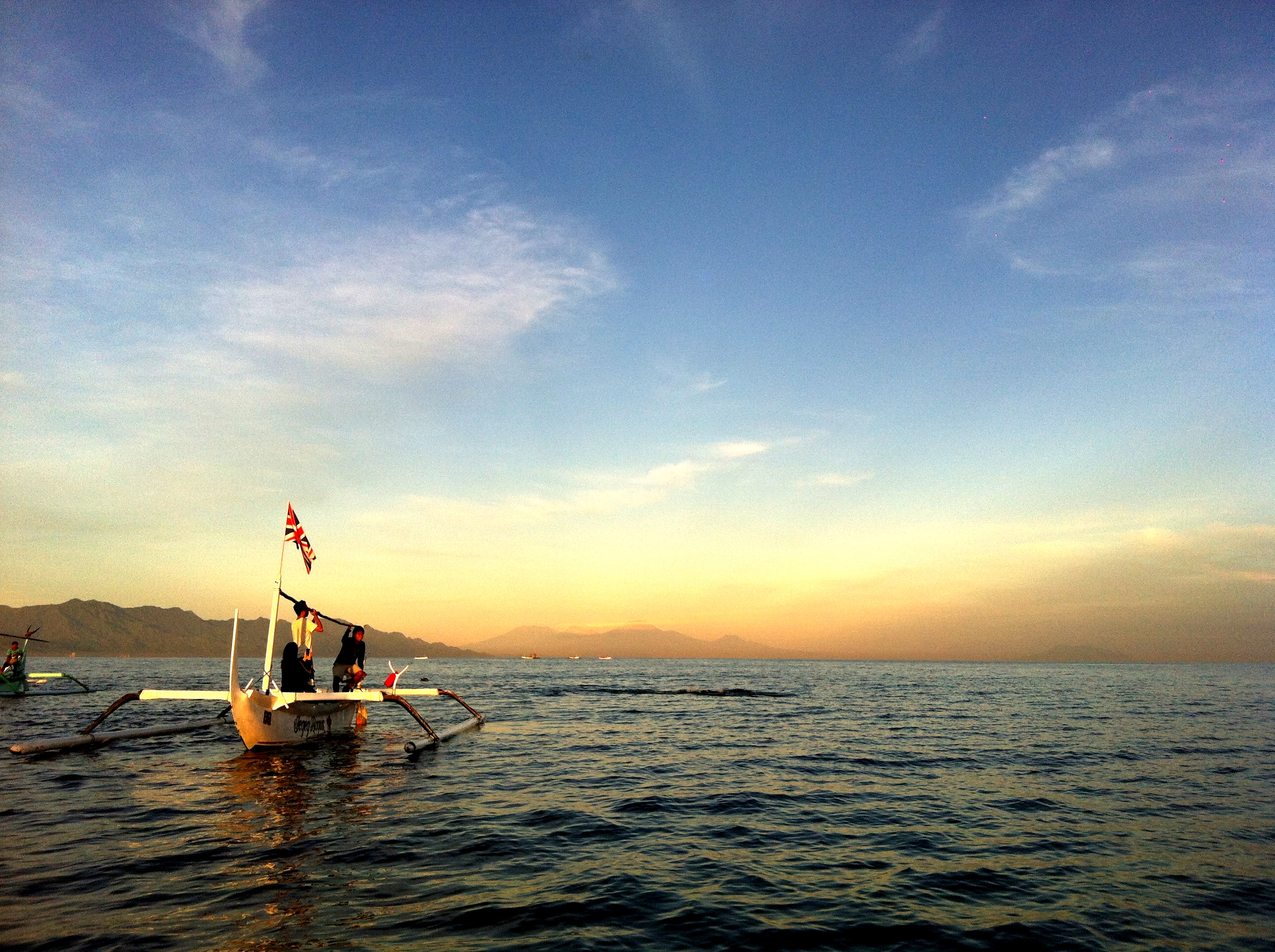 #18

#19 Dolphins!!

#20 I was really excited when I first saw a glimpse of them jumping up because to me that was such a rare opportunity.

#21 That's when the sun rise above.
I kept waiting for dolphins to resurface again and again and once anyone spotted any trace of the dolphins, all the boats will rush over to that direction.
Which in a way I think that rushing towards the dolphins isn't really the right thing to do because it will scare them away. :(
You can either leave to Lovina from Kuta, Ubud, or wherever during midnight or you can rent a room at Lovina like what we did.
We rent the boat from our hotel and it costed us IDR200,000 (Rm60).
To see something so rare, the money paid is definitely worth it.

#22 Took this picture while we were heading back and the sea water is really really clear.

#23 I even spotted a blue starfish from above but couldn't snap it on time.
Lovina is a must visit if you want an unforgettable experience.
That four hour sitting in the car was worth it and so was waking up at four plus in the morning. :)
Take note: Dolphins will not necessary surface from the sea every single time, so it really depends. There's no guarantees and no refunds. Also, do wear short pants because you'll definitely get wet from below your knees.
PADMA SARI BEACH FRONT RESORT
Jl. Raya Seririt, Singaraja, Bali – Indonesia
Telp. : 62 (362) 3435750 / 3435755 Fax : 62 (362) 41947