Just right after a week flying off to Singapore, I flew to Langkawi again with le family members.
Our only intention was to let both the kids take their ride on an airplane for the first time and also to bring them for a holiday after a year long of studies.

#1 They've grown so much now, both my little cousin brothers.
We took an early flight and it was right about time to have our breakfast when we arrive.
No idea what to eat, I started scrolling through Foursquare lol.

#2 Breakfast Bar which basically serves two slices of bread, some lousy scramble egg and charged you for Rm8 or so. Lousy food that is way ridiculously priced. Just don't.

#3 Meet the younger brother which somehow kinda resembles my brother when he was a little kid.
We rented a seven seater for RM200 or so (can't remember much) for a total of 3 days.

#4 Beautiful shades of blue. (:

#5 My favorite uncle and his kids.

#6 On the first day it was all about climbing hundreds and hundreds steps of stairs at Telaga Tujuh waterfall and ocasionally saying Hi to a few monkeys along the way.

#7 Telaga Tujuh waterfall is one of the famous waterfall here in Langkawi and there's a cerita dongeng to it about seven fairies and all.
Actually I do find cerita dongeng to be quite interesting, even more knowing that it is pass down through so many generations.

#8 The water was icy cold while the sun was burning, so it was quite a good combination. My mom who is ever so afraid of the sun was holding her umbrella the entire time. -_-'

#9 Le skinny brother.

#10 Mom said, 'She's gonna take some stupid leg pictures again'. LOL!

#11 Mom, other than that I took selfies too haha.

#12 Two monkeys that constantly drove me crazy the entire trip. They either run around, fight each other, or laugh non-stop. Not for a single moment they will stay calm and sit still unless they're eating. T_T

#13 Haha mata sepet!

#14 I love the boys so much that if they don't have the money to go to college in the future and so happen (hopefully haha) that I'm mad rich, I'll pay for their tuition fees. As long as they have a bright future and as long as I have the moolah. This boy here has a talent in drawing that makes me mad happy. (:

#15

#16

#17 Where the water flows down.
It is better and wiser to climb all the way up in my opinion because we're the 'first hand user'.
This might sound gross but what if people from the top took a piss and you dip yourself in it at the bottom. Just no thanks.

#18

#19

#20 We wanted to go for cable car on the second day but it was raining the entire day. We only managed to shop at duty free shop and go for high tea afterwards at The English Tea Room and Coffee. The fresh cream was homemade and it tasted great but scone wise, I still prefer scones baked by Fatty's mom.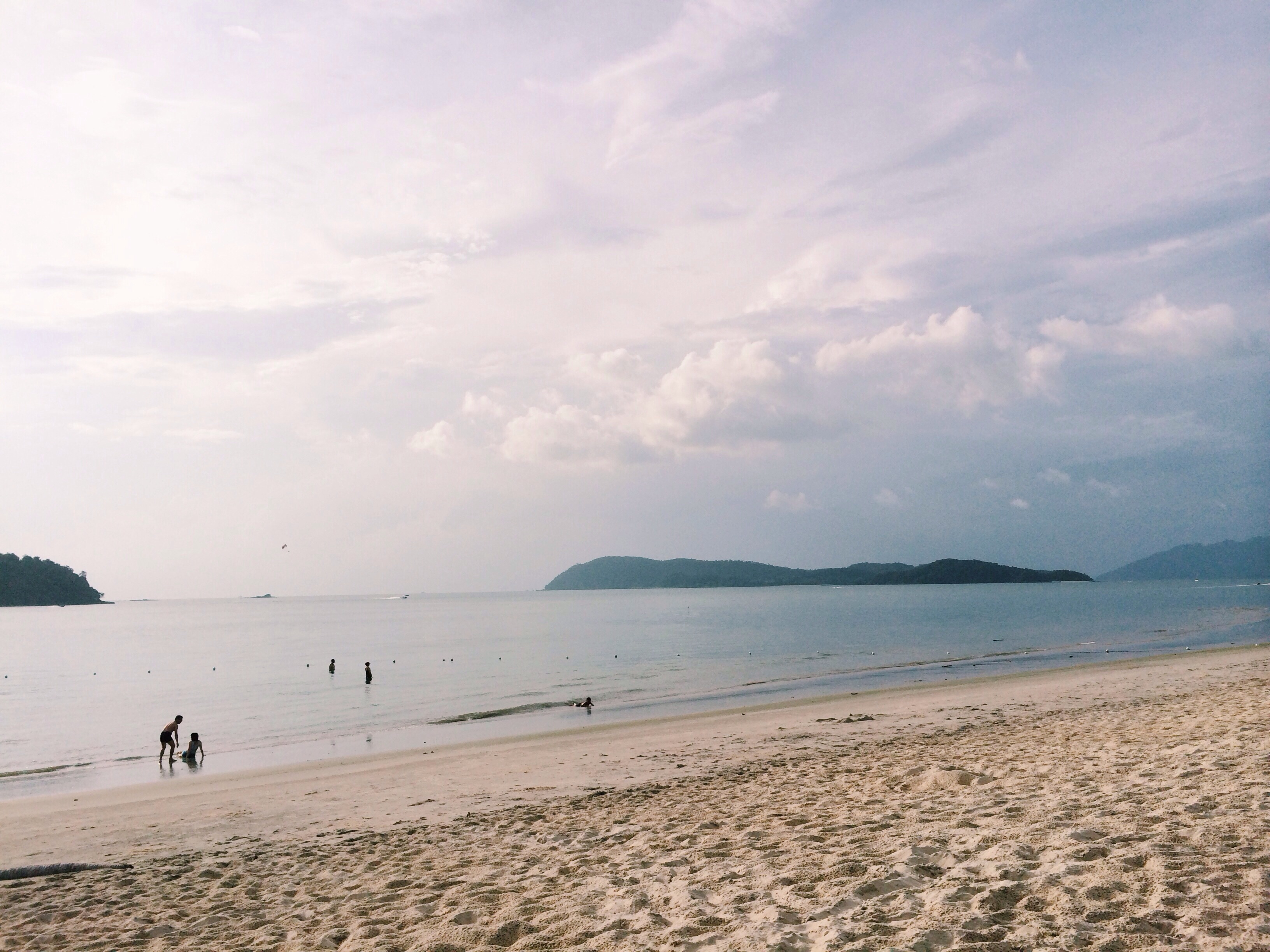 #21 To not let our day go to waste, we went to the beach at Pantai Tengah although it was drizzling. You know, YOLO. HAHA!

#22

#23 The younger brother was crying and screaming because he is afraid of the sea. He finds it dirty and he just dislike it so much but my uncle carried him into the sea anyway. Let's just say you wouldn't want to make this kid mad.
I asked him to helped me bring back my camera onto the beach while he's heading back (crying and feeling extremely angry) and halfway through he just dumped my camera onto the sand. He continued walking without giving two hoots about my camera, dafuq. This kid has got some attitude, haha.
It was still raining the third day and without much choice, we went to Laman Padi to let the kids have a look at paddy field. No entrance fees needed.

#24 A pretty sight to behold.

#25

#26

#27 Le brother and mini me.
Looking at the shorts I was wearing that day, it reminded me of a funny incident.
I'm that kind of girl who will eat until I'm full to the brim, no 70% full kind of thing in my context.
So I was wearing this high-waist-super-tight-shorts and you know how whenever you wear anything high waist, you have this illusion that you're really full but it is actually just the high waist being tight.
So I let go my button and pulled down my zip a little (HAHA THAT'S WHAT I ALWAYS DO / OR UNBUCKLE MY BELT AHEM) and I continued eating. I finished eating and totally forgot about my unbuttoned shorts and at one point the kids were driving me crazy, so I stood up and scolded at them.
That's when my mom asked while laughing, why is my shorts unbuttoned to that point.
HAHAHA these are the stupid things I put myself through.
There was also once during high school when I went to Genting for a trip and I was wearing a tube inside, covered by my jacket. I zipped my jacket because I was too cold and when I was at indoor, finally feeling a little bit of heat, I unzipped my jacket (in a very macho way wtf) and my tube top was actually below my bra. Because my boobs are so small they cant hold the tube especially when I kept moving for so many hours and I actually did that in front of my friends.
HAHAHA super FML moments. Now that I think back, it was so funny.

#28 Mi, that's what I call her.

#29 She kinda had fun playing with props and all.
After exploring the paddy field we went to a beach side that is right beside Langkawi's airport.
We just used our time to eat chocolates (more like them, not me), the boys kept picking up 'mini durians' and once in awhile all of us get excited when we saw planes took off or land.

#29 I actually used to really think that these were mini durians.

#30 AirAsia taking off.
It was not quite a successful trip due to the rain and all but whatever we did, at least there's a bonding time for all of us.
Once November is here, there's always so much joy for at least 3 months. Holiday season is always the best!
There's still a lot for me to look forward to. Feeling really grateful. (: