It was an impromptu short getaway.
I was craving for a holiday after I came back from Hong Kong mainly because I wasn't in my happiest mood during my Hong Kong trip.
I was also desperate for a two-person holiday seeing that the last time we both had our 'honeymoon' getaway was during my birthday last year.
Hong Kong's trip was not in the list seeing that we spend a lot of time being around friends and Fatty's sister.
Opportunity came knocking on my door when Hari Raya Haji was just around the corner and I so happened came across an offer by Thistle at Port Dickson, so I thought why not.
We took their 'Time-4-Two' package which includes an accommodation in a sea view room, breakfast for two, welcome drink for two at Cumulus Beach Bar and one of the complement treat from below for RM495++.
-Unlimited 9-hole Golf including Club Hire
-One hour spa treatment for 2
-Unlimited Water Sports
-Dinner on arrival night
Cheapest rate starts from Rm425++ for a golf view room and the remaining treats are the same.

#1 We went on Hari Raya Haji itself and there I was inside Fatty's bathroom making sure I look fine with a selfie lol.
Fatty brought me to his site at Seremban and he took a look, making sure everything was fine before we went off for lunch.

#2 He learned how to ride a bike during work and he make sure I hopped on it.

#3 This is pai kia number 1.
For lunch, Fatty brought me to Asia Curry Laksa House in Seremban where he raved about their braise pork and curry laksa noodle.
Asia Curry House is located at Taman Cattleya (Jalan Berlian), it's just where the locals eat.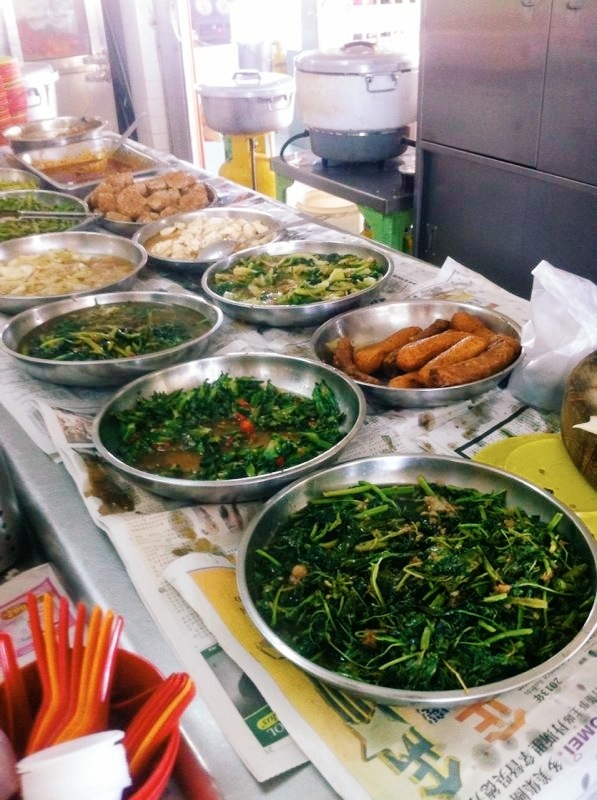 #4 Economy rice which consists a lot of vegetable dishes.

#5 Couldn't stop ourselves from gobbling down the rice while we wait for our curry laksa noodle, so here it is a picture of our half eaten rice. The braise pork was really good, with the right amount of fats to balance up the meat.

#6 Curry laksa noodle which is a little too spicy for my liking. Not sure if so happen it was spicier that day or me being heaty but I'd say I prefer Baba Low's curry laksa.
It took us about half an hour from Seremban to Port Dickson and along the way we saw quite a lot of Malays dressing up to celebrate Hari Raya Haji.

#7 Santai Spa in Thistle Hotel and a bunch of buggies.
Among all the treats, we picked the one hour aromatic massage by Santai Spa. I figured one hour of massage in a hotel will at least cost us Rm150 and since there's two of us it makes it Rm300 which makes it really worth it to pick a massage. Moreover, we really need one.

#8 Thistle half open air lobby which is really airy.

#9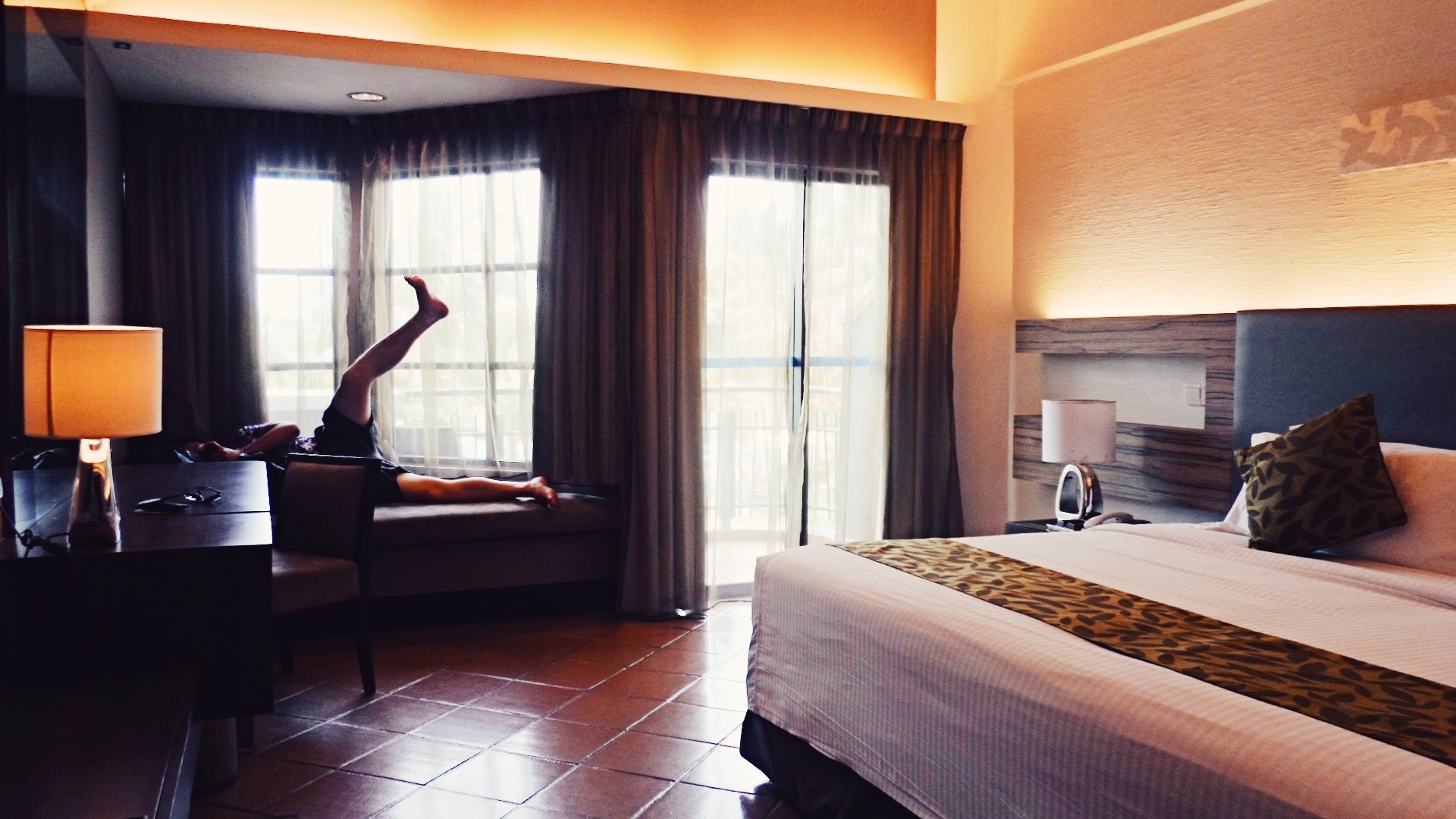 #10 I asked Fatty, 'Can you get out of the frame or not!? Why must you always unintentionally appear in my picture!?' and he decided to raised his leg up. Stupid boy.

#11 I requested for a room change because the first room do not have a bathtub (sue me) so they gave me a room with bathtub and that's higher off the ground. :)

#12 The view from our room's balcony, not bad lah. :)

#13 Took a walk around Thistle and saw this human size checkers and snake & ladders. Look at that stupid boy appearing in my picture unintentionally again.

#14 We walked towards the beach and saw a few cabanas but it was wet so we continue looking around.

#15 Saw a very cute girl playing on a swing but at the same time I cant wait for her to be done so that I can hop on it haha.

#16 Adorable is an understatement. :)

#17 This is Cumulus bar by the beach and it is only open starting noon time, 3pm if I'm not mistaken.

#18 It's a really nice place to chill by the beach and we have two complimentary drinks, so Fatty ordered a draught beer and as for me, it's always fruit juice.

#19

#20 Sigh, I just love this act-handsome-boy so much!

#21 Other than the family pool that we saw from our balcony, there's an infinity pool right beside Cumulus bar. A great alternative if you don't like to be around kids.

#22 We didn't really walk on the beach though cause I was lazy and the beach doesn't look too inviting.

#23 After done checking out Thistle, we went for our aromatic massage at Santai Spa which we scheduled at 4pm.

#24 The massage was very different from what I usually had, that was my first aromatic massage and I must say things can get pretty naked. Not really comfortable with that. :\
There's a changing room where you can take a quick shower or go for sauna if you wish.
You may actually request to go for sauna with your other half and they will try to arrange it for you at 8pm when there's no more guest.

#25 No showering or swimming after the massage for at least an hour so we changed and took another walk before jumping into the pool.

#26 Super fat thighs lah I don't know why. Maybe cause I put my entire weight on my bottoms and thighs lol! Damn!

#27 Serious one! Fatty don't know how he should take the picture cause he said 'Your thighs very fat lah' fml.

#28 Happy girl on a wooden swing hanged on a tree. :)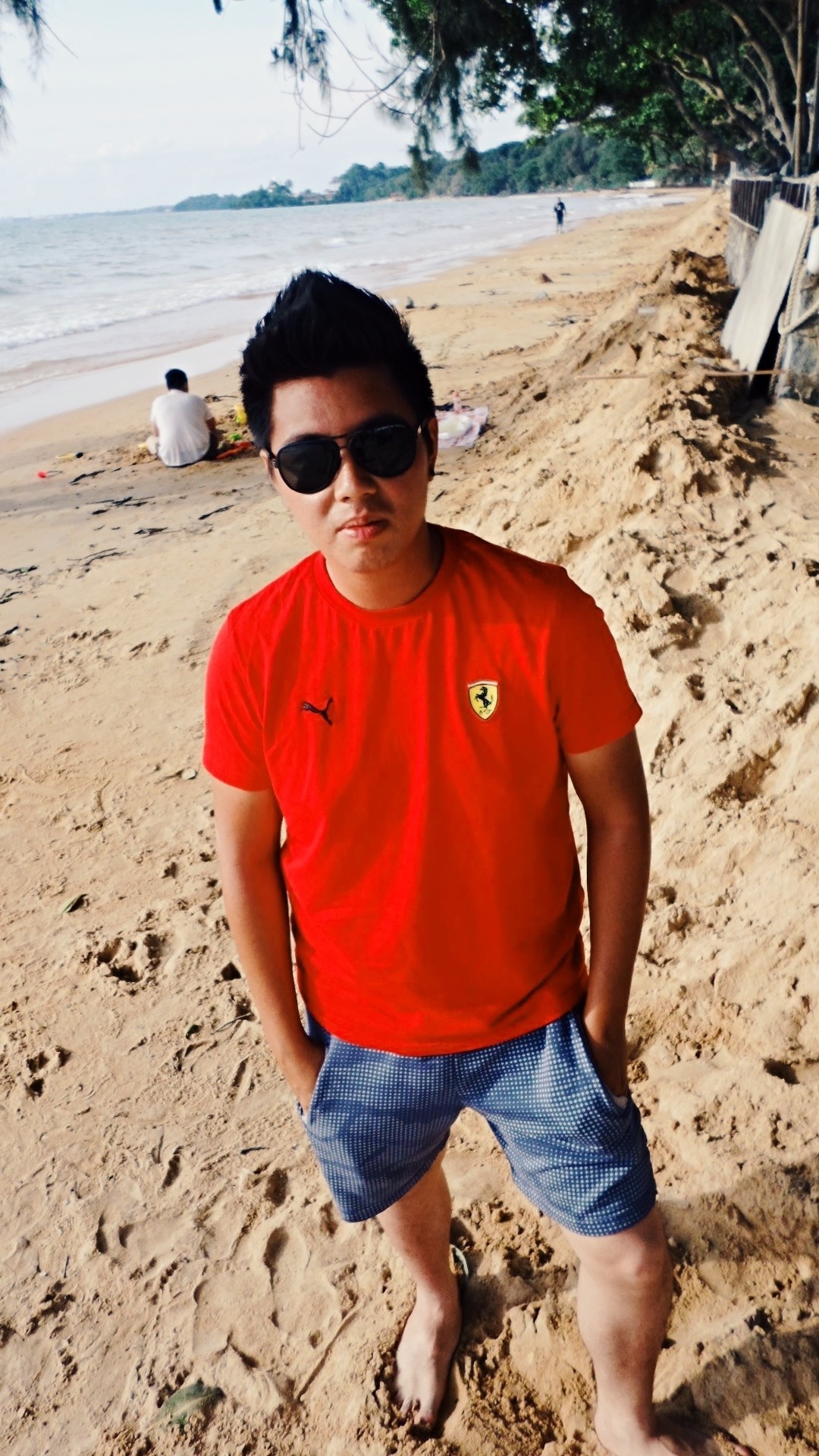 #29 Fatty boom boom but he shed some fats right!?

#30 Or maybe not if you look closely, haha.

#31 ✌

#32 Not bad hor the infinity pool?

#33

#34 Secretly took a picture when he was enjoying whatever he was enjoying.
I bought myself a waterproof camera case and now every time when I go swimming I can use it hehehe. :D

#35 It was really fun except that the water isn't clear enough for us!

#36 Damn cute hor my merman. :D

#37 I didn't bother adjusting the case properly cause I was too eager which is why you see a black rim at the corner.

#38

#39 Am I the only person who think he's cute? LOL!

#40 Really really cute wan! HAHA!

#41 My weird picture underwater.

#42 Because there's no way I can dive and open my eyes at the same time so this is the best I can do.

#43 Also because I didn't bother taking off my lens beforehand so it makes it all the more impossible to open my eyes underwater. Also if you notice, somebody is trying to pull off a handsome face. Aherm.

#44 Did I spot Fatty right there?

#45 We headed to Malacca for satay celup and I wanted Pak Putra after that but they wasn't open for business. All the shops were close too, so it was a bad choice going down to Malacca. :(

#46 I forced Fatty to take this picture for me, haha.
Fatty sent me to Seremban's train station and I took KTM back to Bandar Tasik Selatan for only RM5 plus which is dirt cheap! We were reluctant to part ways but it's a working day so there wasn't really a choice.
Though short but we both had a great bonding time and we are now a little more in love than before haha.
That or maybe my pms has yet to hit me lol.
Time-4-Two package is made available until 31st of December this year and if you'll like to book, do head over to Thistle's website.
Thistle is a UK based company but maintenance and cleanliness wise, they really aren't at their best.
The hotel and their room is nowhere near dirty but the lift has got this weird smell which I really dislike.
Addition to that, the infinity pool wasn't very clean either and their pool table is really worn out.
Other than that, everything else was fine.
Thistle Port Dickson Resort
KM16 Jalan Pantai, Teluk Kemang, 71050 Si Rusa, Port Dickson 71050
Phone: +606 648 2828 /
Fax: +606 662 7999 /